Armchair Travel of the Culinary Kind
Maybe I'm just nostalgic for Spain…on the Road Again, the PBS foodie road trip series with Mario Batali, Gwyneth Paltrow, Mark Bittman and Claudia Bassols, but I've been having fun watching actors Marisa Tomei and Dan Cortese and chef Rocco DiSpirito traipse around the Italian countryside in Into the Heart of Italy, a culinary mini mini-series (6 episodes, 6 minutes or so each) devised by Bertolli to promote its frozen meals. I was skeptical at first, but each episode is a little story, following the three as they go on a scavenger hunt for fresh and artisanal ingredients and then cook them up in various stunningly beautiful locales (with only a 17-second product promo at the end). The real stars are the Italian farmers and merchants and cooks they meet.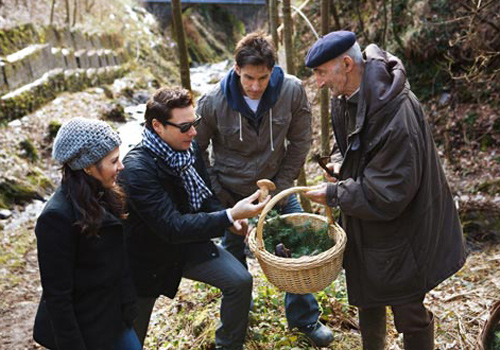 In the sixth episode they pay a visit to famous butcher Dario Cecchini—I'd read about his super-size personality and talent in Bill Buford's Heat: An Amateur's Adventures as Kitchen Slave, Line Cook, Pasta-Maker, and Apprentice to a Dante-Quoting Butcher in Tuscany, and it was fun to see him in action.
Categories: