Best Med Diet Dish at...Lupa
MEDITERRANEANISTA SEEMS TO HAVE SLUMBERED her way through January. Snow, snow, snow. Merry house guests gone. Memories of communal cooking and countless feasts fading.
But lunch at Mario Batali's Lupa Osteria Romana seems to have roused me from my Rip Van Winkle sleep. It was an official Snow Day when our reservation date came up, and we happily padded our way down to the Village—our old neighborhood.
Through Washington Square Park.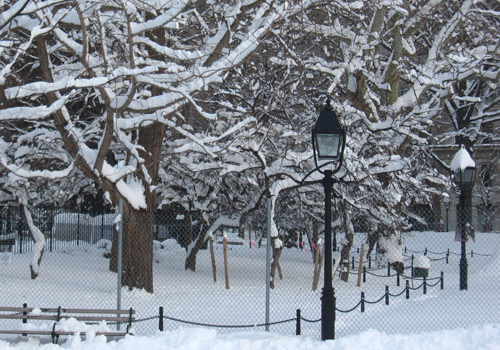 Down Thompson Street past the chess store. (They get the prize for cleanest pavement.)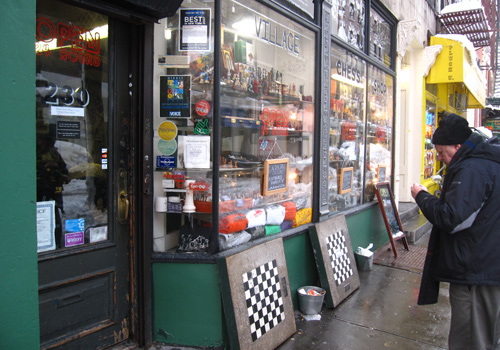 Past the building that housed a live poultry and rabbit market when we lived across the street above our landlord's Italian restaurant.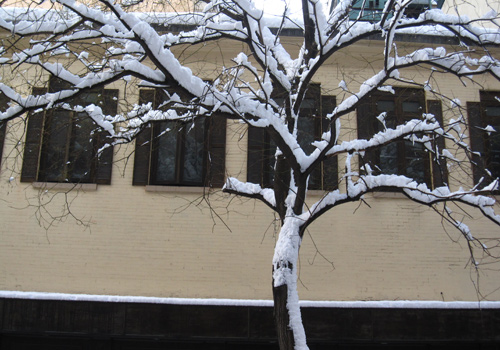 Past buried cars.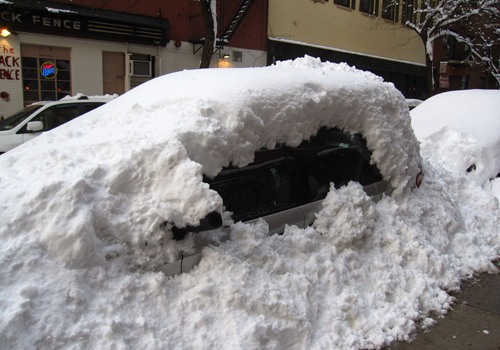 And stranded bicycles.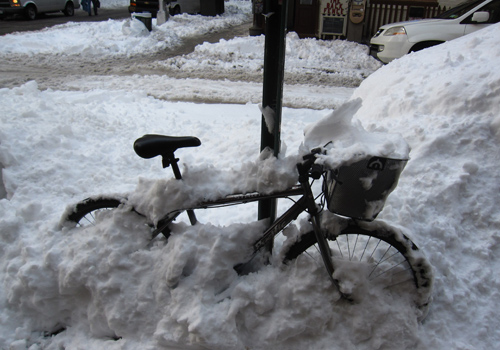 To the doorstep of Lupa, where a warm welcome—and lovely Mediterranean smells—awaited.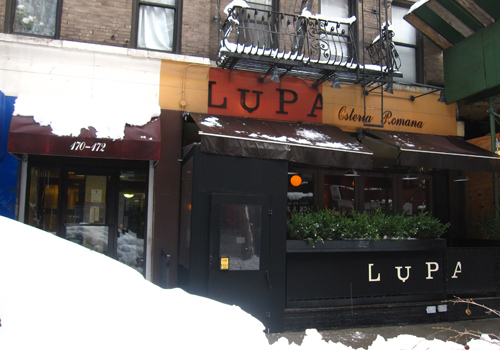 Lupa is an informal and friendly trattoria, Batali-style—we sat at one of the simple wooden tables in the front (a back room has tablecloths). Down one side is a long bar that I hear gets very crowded on a usual day (i.e. when most of the city's residents aren't stuck in snowdrifts). Roman dishes are simple and tasty; we particularly liked the sound of the vegetable antipasti —brussels sprouts with apples, for one, or beets with pistachio.
Our Restaurant Week menu started with Lupa's pasta e fagioli—a puréed white bean soup with escarole and sage, perfect for the snowy day—and a delicious capon & pork terrine with celery mostarda and bitter greens.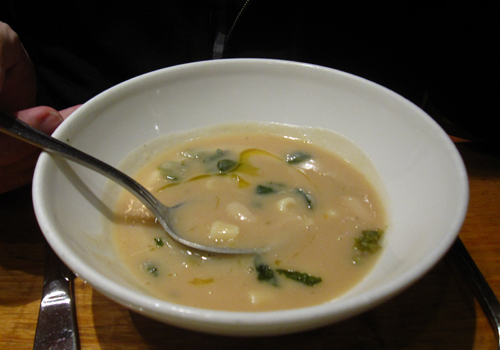 Next came butternut squash
farrotto
(like a risotto, but made with farro)—a real treat for this farro-loving girl—and
branzino with cardoon
and potato purée. Finally, fresh ricotta and honey for dessert—a sublime creamy finish to the meal. We drank a lovely dry Frascati —Rome's signature white wine—and a Chianti-like Morellino di Scansano from Tuscany. The wine list represents all parts of Italy, with half the bottles under $50. (The Frascati Superiore
Cantine Conte Zandotti
2009 is $29, for example, the Morellino di
Scansano "I Perazzi" La Mozza
2008, $35.)
$21 Lunch Prix Fixe: Restaurant Week is over at Lupa, but it is now offering a three-course "Roman Style Lunch" for $21. Burrata (fresh mozzarrella with a creamy center) with butternut squash and mint, and Paccheri alla Gricia, pasta with guanciale (Roman bacon made from pig's jowls), caught my eye. I better hurry back—specific dishes change regularly "inspired by ingredients, seasonality or a regional favorite." Served Monday through Friday, noon to 3:30 pm. I can also imagine just pulling up to the bar and ordering a glass of wine and a salumi plate or some of those wonderful vegetable antipasti.
Lupa Osteria Romana
170 Thompson Street New York, NY 10001 212-982-5089 (Lunch reservations are much easier to get than dinner, which books up a month out. Some walk-ins, with a wait of course.)