Best Med Diet Dish at...Maoz Vegetarian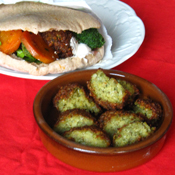 HERE'S SOME FAST FOOD WITH MED CRED, available at five locations around the city—including high-traffic areas like Times Square and Union Square. Maybe one is near your office? A couple more branches are opening in the next few months, including one in Hoboken.
My pick from the Maoz menu is the falafel whole-wheat pita sandwich ($5.25), with veggie toppings from the salad bar—roasted cauliflower, diced beets, tabouli salad, Moroccan-style marinated carrots, and so on, plus various sauces, including cilantro, garlic, tahini, chili. If you dine in, you can refill your pita as many times as you want from the salad bar, piling up those veggie servings with the greatest of ease.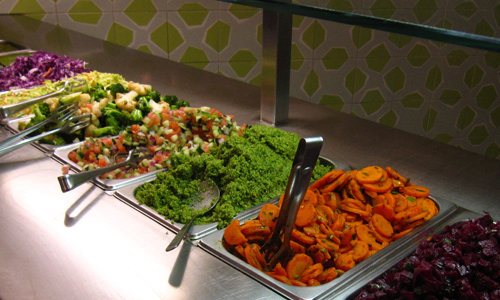 Last time I was at Maoz, I bought an extra side order of falafel ($3.50, made from chickpeas) to take home, where I combined it with my own salad and tahini later. Yum.
Maoz's falafel
made
SeriousEats.com's top 7 falafel sandwiches in New York City earlier this summer. The white pita lost it some points. I found the whole-wheat pita pretty tasty.
The first Maoz restaurant opened in Amsterdam in 1991 and soon attracted local customers and travelers alike. The menu emphasizes fresh produce and, although it doesn't use olive oil, the Med diet favorite, it does use zero trans fat vegetable oil. For only $1 extra, you can get freshly squeezed carrot, apple or orange juice instead of soda with the sandwich meal deal. If you're interested in more nutrition details, check out the
Maoz website.
Meatless Monday Deal:
At Maoz Vegetarian, every day is meatless but on Mondays you get 10% off the Salad Meal Deal ($9.95)—a box of greens with falafel plus two add-ons (hummus, eggplant, etc.), salad-bar toppings and freshly squeezed juice.
Maoz Vegetarian
558 7th Ave (corner of 40 St) New York, NY 10018 212.777.0820 59 East 8 St (between Broadway and University Pl) New York, NY 10003 212.420.5999 38 Union Square East (between 16 and 17 St) New York, NY 10003 212.260.1988
Order online
2047 Broadway (between 70 and 71 St) New York, NY 10023 212.362.2622 2857 Broadway (between 110 and 111 St) New York, NY 10025 212.222.6464
Order online
Opening Soon:
683 8th Ave (between 43 and 44 St) New York, NY 10036 315 Washington Street
Hoboken, NJ 07030
Categories: