Best Med Diet Dish at...Taberna [closed]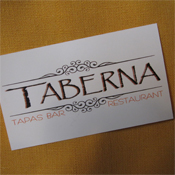 I'VE ALWAYS BEEN A FAN of small plates and making a meal out of a succession of appetizers so it was good news when a new tapas bar—Taberna—opened on the Upper West Side this summer. Chef Jennifer Cole spent a dozen years or more working as a chef in Spain (including at Michelin-starred Balzac in Madrid) before returning to New York. Lucky us. The menu is full of
little composed masterpieces of Mediterranean ingredients
—seafood, vegetables, beans, olive oil. Specials change frequently, depending on what's in season at the market. Earlier in July, I paid a visit.
Each of the four small dishes we ordered, which made a satisfying dinner for two, was full of complex flavors. As each plate was presented, I realized that what I like about this way of eating is that it is interesting—and I don't mean that in the polite way we sometimes use the word when we really mean "less than great." Each dish was an experience unto itself, an inducement to mindful eating that we could savor fully before going on to the next. A glass of
Laxas Albariño 2009
, a lovely crisp white wine with fruity aromas, from Galicia in northwestern Spain, was a perfect accompaniment.
The meal began with an amuse-bouche on two white ceramic spoons—salpicón de pulpo from Galicia, made from small dice of octopus, peppers, onions and tomatoes with a lemon vinaigrette. A promising start.
Next was marinated trout with white bean salad—what a wonderful contrast between the fish and the creamy white beans.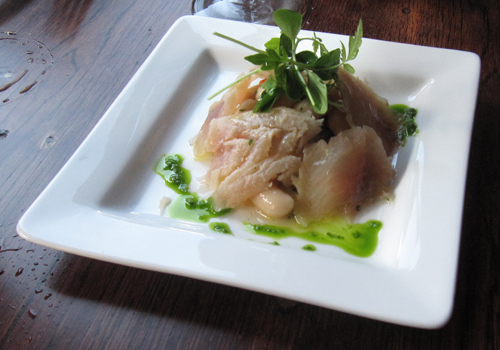 Pisto manchego (Spanish ratatouille) with quail egg, Serrano crisp, and parsley gel is a great example of the Mediterranean use of meat as condiment rather than plate-filler—in this case, a slice of dry-cured Spanish Serrano ham (similar to Italian prosciutto crudo or French jambon de Bayonne), sautéed briefly to make it crispy.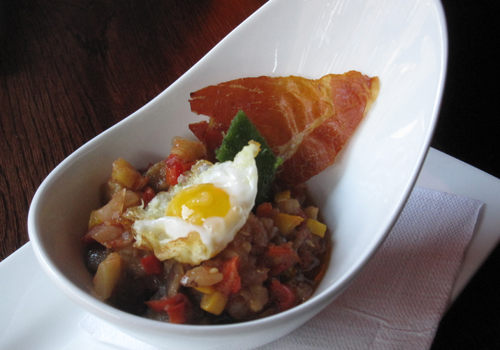 To finish up the meal….delicious baked goat cheese.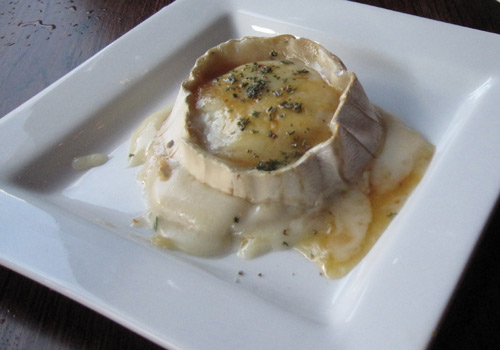 Some other recent specials I've seen on the menu—mussel squid salad with heirloom tomatoes, Catalan croquetas with spinach, golden raisins and pine nuts—sound enticing. I'll be back!
Taberna
429 Amsterdam Avenue, nr. 81st St. New York, NY 10024
917-388-3500
Categories: