Cookbooks I Like: The Very Best of Recipes for Health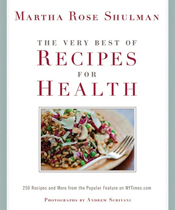 A couple of years ago
when I first got interested
in the traditional Mediterranean diet, I began experimenting with dinners composed of several smaller vegetable or grain dishes, rather than the meat+sides approach that I was used to. I liked a lot of vegetables just straight up, but was looking for ideas to give these meals some pizzazz.
My earliest inspiration for these Mediterranean menu adventures came from Martha Rose Shulman, whose "Recipes for Health" column at NYTimes.com always seemed to have a good answer to "What's for dinner?"—flavor-packed suggestions for dishes using that week's farm produce. In fact, I remember the exact menu that made my husband and I look at each other at the end of the meal and say, 'wow, this really is a delicious way to eat, let's do more of this.' And we have.
That night, in what now reads like an Ode to Yogurt, I'd made
Mediterranean Beets and Yogurt Salad
,
Middle Eastern Spinach With Spices and Yogurt
, and, because I had leeks, and because it's delicious, Julia Child's braised leeks, which, I confess, involves a very un-Mediterranean quantity of butter. We ate the dishes one by one (with the leeks in between the two yogurt dishes as I recall), savoring the sweet of the beets paired with the garlicky yogurt, the velvety leeks, the spinach and its Middle Eastern spices. It was
a culinary trip to faraway places
, all at our own dinner table.
Since then,
I've cooked dozens of Shulman's recipes
, for family dinners or to impress guests. They're low-fuss and high-impact. Along the way I've built up quite a collection of spattered printouts from the column, which I stuff in a binder and have never gotten around to organizing. Now I'm delighted that the organizing has been done for me: Shulman has collected 250 of her favorites in a book,
The Very Best of Recipes for Health
,
just out from Rodale Books, with beautiful photos by Andrew Scrivani, who also photographs the
Times
column.
I like the way the book is organized around themes such as breakfast, vegetarian main courses, salads, and pasta and risotto. A dietary index conveniently cross-references recipes under topics like gluten-free, low-calorie, or high in omega-3s, while a general index makes it easy to find recipes by ingredient. Shulman includes a useful section on the well-stocked pantry—I've found that putting together a Mediterranean pantry of my own (more on that later) is part of what makes it easy and pleasurable for me to keep exploring this new way of eating.
To celebrate this Meatless Monday,
here's one of my favorite recipes from Shulman's new book: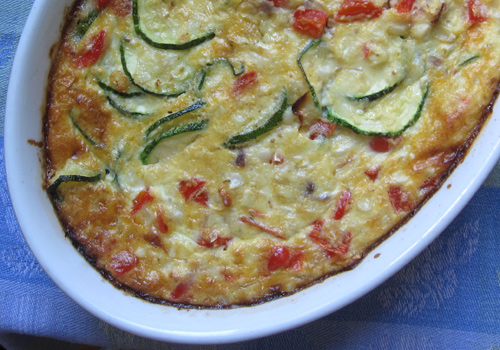 Corn and Vegetable Gratin with Cumin
By Martha Rose Shulman Serves 6
1 tbs extra-virgin olive oil
1 medium onion, finely chopped
1 medium red bell pepper, diced
Salt
1 large garlic clove, minced
1/2 lb zucchini, thinly sliced or diced
Freshly ground pepper
Kernels from 2 ears sweet corn (about 2 cups)
3 large eggs
1/2 cup 1% milk
1 tsp cumin seeds
, lightly toasted and coarsely ground in a spice mill, or slightly crushed in a mortar and pestle
1/2 cup (2 oz) grated Gruyère cheese
1.
Preheat the oven to 375 degrees. Oil a 2-quart gratin or baking dish. Set aside the kernels from one of the ears of corn. Heat the olive oil in a large, nonstick skillet over medium heat. Add the onion. Cook, stirring often, until it begins to soften, about 3 minutes. Add the bell pepper and a generous pinch of salt. Cook, stirring often, until the onions and peppers are tender, about 5 minutes. Add the garlic and zucchini, stir together, and add another generous pinch of salt and some pepper. Cook, stirring often, until the zucchini is just beginning to look bright green and some of the slices are translucent. Stir in half of the corn kernels. Stir together for 1 or 2 minutes, and remove from the heat. Scrape into a large bowl.
2.
Place the eggs, milk, 1/2 teaspoon salt, and remaining corn kernels in a blender. Blend until smooth. Pour into the bowl with the vegetables. Add the cumin and the cheese, and stir everything together. Scrape into the gratin dish.
3.
Bake 35 to 40 minutes, or until the top is browned and the gratin is firm to the touch. Serve hot or warm.
Advance preparation:
The vegetable filling can be prepared a day ahead and kept in the refrigerator. From
The Very Best of Recipes for Health: 250 Recipes and More from the Popular Feature on NYTimes.com
© 2010 by Martha Rose Shulman, published by Rodale Books.