Does Your Market Have Live Opera?
MUCH AS I LOVE NEW YORK CITY'S GREENMARKETS, the farmers' market closest to my heart will probably always be Montreal's Jean-Talon Market, perhaps because it's the first one I got to know as a grownup doing her own cooking. I'd learned the farmers' market habit early from my parents: Most Saturday mornings we headed to the market in the small southern Ontario town where I grew up. When I lived in Montreal I don't think I realized how special Jean-Talon Market was, although I loved shopping there.
Marché Jean-Talon is located in Montreal's Little Italy. Perhaps that helps explain this.
Thanks to Bruce for passing this on. And to the
Opéra de Montréal
for the fine performances.
The market has been operating since 1933 and in summer it has some 300 vendors, mostly farmers from the surrounding country. But it's open year-round, thanks to enclosed sheds, with shops selling cheeses,
spices
and all the beautiful products of the Québec terroir—fish from the Gaspé, organic meat and game, mushrooms, you name it. (The market has a long tradition of selling organic products.) Definitely worth a visit if you're traveling that way.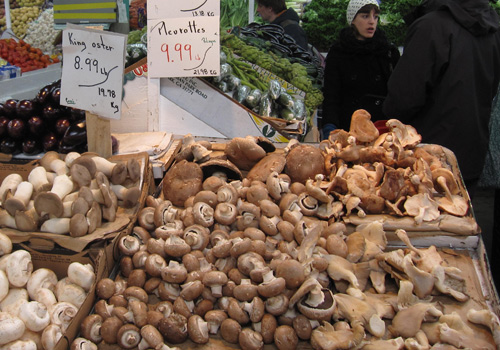 Some imported produce is sold at the market, too. (Those winters get long.)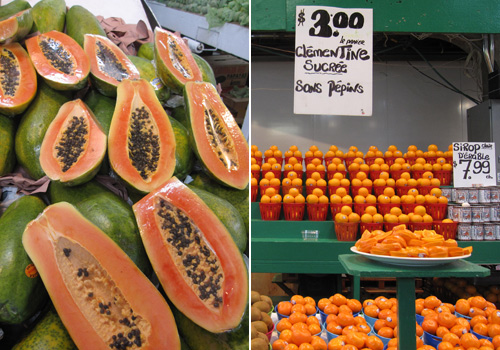 When you go, don't overlook the neighborhood's Italian coffee bars and shops. And be sure to book dinner at
Kitchen Galerie
, a tiny and very special restaurant overlooking the market, whose chefs prepare the meal from what they've found at the market that day, doing
all the shopping, cooking and serving themselves
. Délicieux! (Sorry, no pictures—I was too busy eating.)
Jean-Talon Market
7070 Henri-Julien Street, between Saint-Denis and Saint-Laurent Montréal, Québec Kitchen Galerie 60 Rue Jean Talon Est
Montréal, Québec
514.315.8994