Enough with the Ratatouille. What's for Dessert?
I'd like to say "a plate of figs" but that's the kind of answer that apparently can lead to culinary combat. (After taking pot shots at just such a dish, one New York chef got into quite a bit of
trouble
himself.) I'm pretty sure I can fly below the radar on this one, though. And seriously,
the dessert you're most likely to find on a Mediterranean table
is
a plate of figs—or peaches, or plums, or whatever the orchards and fields and markets happen to be spilling out that week.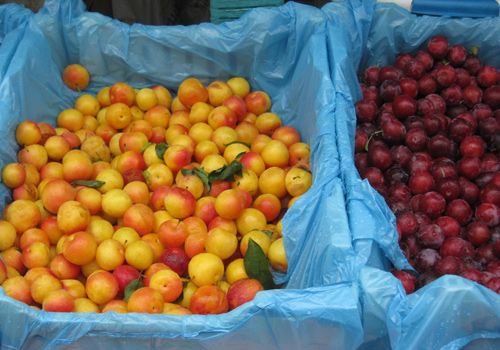 "Are they sun-ripened and bursting with jammy sweetness? Are they succulent enough to eat as is, or do they want a sprinkling of salt, a drizzle of good olive oil, perhaps a thin slice of prosciutto? A dab of fresh ricotta and honey to heighten the flavor?"
For the last month in NYC greenmarkets, the bounty has been stone fruits: plums, apricots, peaches, nectarines, which are packed with the antioxidants and phytonutrients associated with disease prevention. (Antioxidants are thought to be central to the health benefits of the traditional Mediterranean diet.) Stone fruits have been plentiful and good this year, which isn't always the case.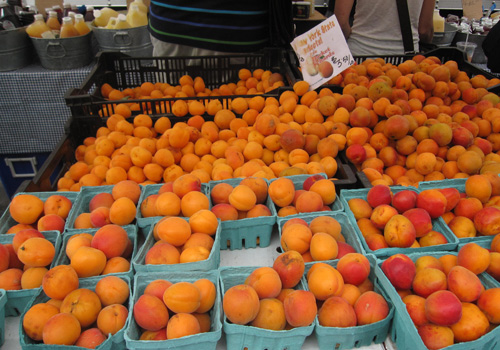 I grew up in southwestern Ontario where August brought baskets and baskets of peaches that we ate freely—with every meal and in between. Cornflakes and peaches for breakfast, juicy peach eaten standing over the kitchen sink, sliced peaches with sour cream. And just like apples have names—Macintosh, Granny Smith, Northern Spy—these peaches all had names, too. (
Red Haven
is one I remember.) I thought that's the way the world was—full of wonderful peaches. Then I moved away and spent the next decades being disappointed by peaches—pulpy ones, tasteless ones, green ones—until I practically gave up. But hope springs eternal and so it's a happy day when the local peaches arrive and the crop is a good one and you can bite into a sweet, juicy one—or two—or three.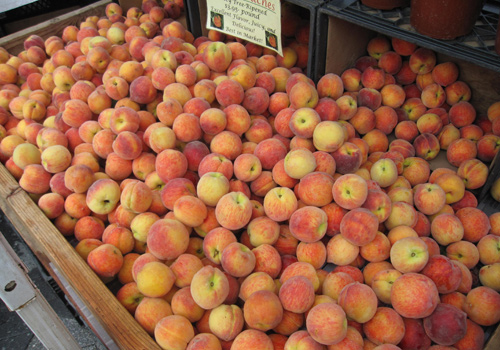 So, yes, peaches on a plate is a perfect dessert right now.
Or plums in a bowl.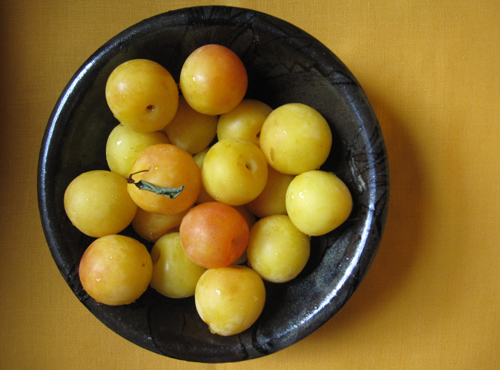 And if you're looking to fancy things up a bit, here are three other simple ways to serve fruit.
Shower berries (or cut fruit) over a big dollop of Greek yogurt (I know, dollop is not a technical term; let's say 1/2 cup) in your bowl. Add a drizzle of maple syrup if you're a girl like me who likes to be reminded of home. (It tastes wonderful without, too.)
Macerate the fruit: Cut it up, removing any nasty bits (this method is a good way to deal with fruit that's either side of the tipping point of ripeness). Sprinkle with 1 to 2 tbs sugar (I use turbinado) for every two cups of fruit, and let sit for half an hour or more. The juices from the fruit will emerge, making a wonderful sauce (and flavoring the yogurt if you use it).
I was introduced to eating fruit this way years ago when my brother John, who was just back from months spent traveling around Italy and the Mediterranean, served me the most beautiful bowl of oranges—sliced into rounds and steeped in their own juices: my first taste of
Macedonia di Frutta
.
I find that combining fewer different types of fruit works better than more; use ones that complement each other (peaches and blueberries are a winner at this time of year).
There are hundreds of variations on this basic idea, often inspired by products that grow together—like the wild strawberries outside of Ferrara and the balsamic vinegar from nearby Modena (as
Babbo pastry chef Gina DePalma describes here
). Wine or liqueurs are often involved.
So... add a tablespoon or two of balsamic vinegar to a pint of strawberries, or a 1/4 cup of Prosecco or Cava. Add white or rosé wine to peaches, a tablespoon or two of Grand Marnier to a bowl of orange macédoine. Or use lavender-flavored sugar or sprinkle crystallized ginger or fresh mint on top. (But perhaps not all of the above at once!)
What are your favorite combos? Let us know via the comment box below.
Poach the fruit: One of my favorite examples of this—made with pears—is from nouveau Greek chef Michael Psilakis. Poaching is a good method if the only fruit you can find is a bit hard, which is frequently the case through the winter months in NYC.
Peel, quarter and core 2 pears. Cut each quarter into thirds. Put in a saucepan with one cup water and ½ cup sugar (the recipe calls for a cup but I find ½ cup works just fine). Add 4 peppercorns, a star of anise and a cinnamon stick. Bring to a gentle boil, then turn down and simmer for 10 minutes.
Remove the spices. Put ½ cup of Greek yogurt in each of four bowls. Divide the pears and juice among the bowls. Top with toasted, chopped walnuts. (Or not, if you prefer.)
Et voilà, a fruit dessert fit for kings and queens.
Categories: