Foraging for Olives and Feta in Astoria—and Coming Home with Way More
I went on a field trip to explore Greek Astoria this week. I'd been hearing for ages about Titan Foods—"America's Largest Greek Specialty Food Store." I'd even taken a virtual tour of its olive and cheese counters with Michael Psilakis, founding chef at haute Greek pioneer restaurant Anthos (and chef/owner of Kefi, Gus & Gabriel Gastropub—will
Williamsburg
be next?)
You can take the tour, too:
Now that I get that it's tee-TAN foods—to rhyme with Han, as in Han Dynasty—and not tī-tn, as in "tighten," I think I'm ready. More to the point, I have a queue of Med recipes waiting for olives and/or feta before they can be made.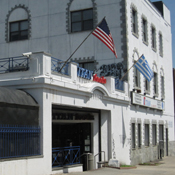 With all the talk of how huge Titan was, I guess I'd imagined a Walmart-size Greek grocery store. Well it's not—and that's good thing. But with a Greek flag flying from the roof of the white stucco building and a mural of Greek monuments (think Parthenon) overlooking the small parking lot, it certainly has a presence.
Inside, the grocery store aisles transport you straight to the Mediterranean: rows of different olive oils in tins, grains, beans, packages of cereal with Greek labels, dried fruits, nuts, a cooler full of, well, yes, Greek yogurt. Almost none of the products here can be found at my regular NY supermarket. Even the pasta is different. The olive section doesn't disappoint. I select some dark ones from Cyprus and Morocco—just because I haven't tried them before.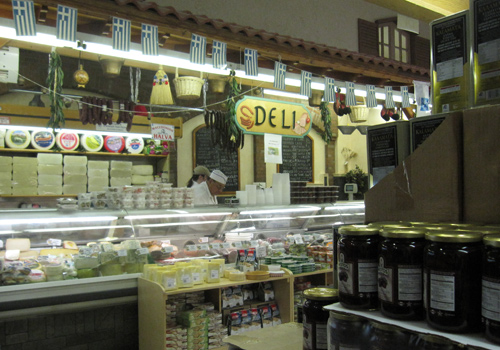 At the cheese counter (above), which in Greece, as Psilakis points out, is really all about feta, I decide on the Arahova, a sheep's milk feta. The EC, after some dispute, gave the Greek brine-cured cheese a P.D.O. (protected designation of origin), which means all feta must come from Greece. I learn later that Greeks apparently eat more cheese per capita than any other nation (yes, even France)—75% of it feta.
Also in my basket: dried apricots, orange blossom water (from Lebanon), gigante dried beans, orzo and olive oil soap. The staff I talk to are all very helpful: One man valiantly tries to explain what
mastiha
is—and I get that it is sweet—but I still had to
look it up
when I got home. I discover that the Chios Mastiha Growers Association has a whole
store of mastiha products
, including a cookbook, in the East Village. Clearly I'm behind the curve here; I'll have to drop by next time I'm in the neighborhood. Maybe I'll even be a brave taster, as my sons' nursery school teacher used to say, and bring home a jar from Titan next time I go. Maybe.
Titan Foods doesn't sell fresh produce. For that, I walk along 30th Avenue. The stretch between 31st Street and Steinway reminds me of the Italian and Portuguese neighborhoods in Toronto where the produce stands of small green grocers spill right out onto the sidewalk.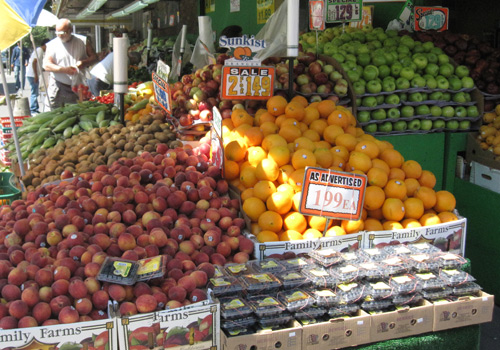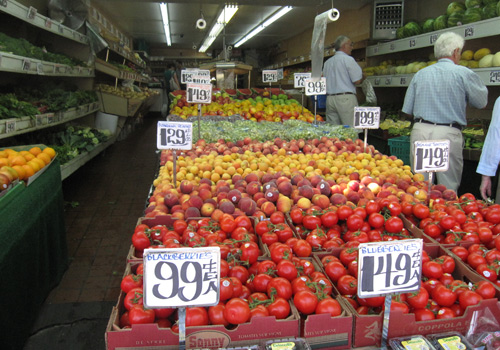 At United Brothers Fruit Market, I find red swiss chard—crisp and beautiful—for $1/pound; at Elliniki Agora a couple of doors down, fresh fava beans. Tinned sardines from Croatia at Cyprus Deli and I'm done. A small but satisfying haul, with a shopping list already started for my next visit.
Getting there:
N train to
Astoria Blvd
or
30 Av
Titan Foods
25-56 31st Street 718-626-7771
www.titanfood.com
United Brothers Fruit Market
3224 30th Ave. 718-728-7011
Elliniki Agora Fruit and Vegetable
32-12 30th Ave. 
 718-728-0751
Cyprus Deli
3410 30th Ave. 718-278-4679
Categories: