Happy Bastille Day!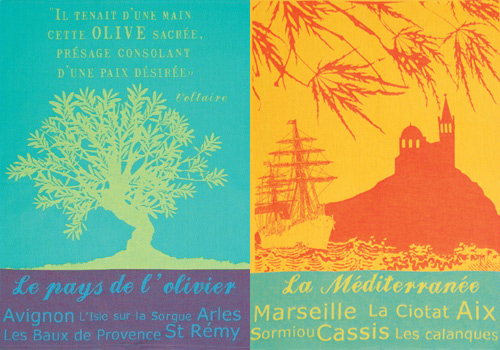 These beautiful French tea towels—woven on Jacquard looms—can be found at QuelObjet.com, also the source of olive oil soap in the most elegant olive leaf shape and other handmade objets from France, many of them traditional designs produced at small family factories.
Tissage Moutet, the maker of the tea towels, has been in the Moutet family since 1913. It made cloth mantles used to protect working oxen from insects before converting, in 1919, to making table linens. Today fourth generation owner Catherine Moutet has breathed new life into the company by using the traditional Jacquard weaving methods to create new patterns and designs she commissions from artists and designers.
Vive la République! Vive les artistes et les artisans!
Tissage Moutet Tea Towel, $21
QuelObjet.com
877-762-4499
Categories: