Husbands Who Make Soup Are, Well, Just Wonderful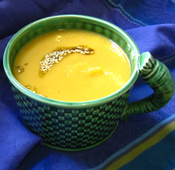 I DON'T KNOW HOW Mr. Mediterraneanista (or BC, as he prefers to be called) got to Food52. Maybe he saw it mentioned on politico/foodie Ezra Klein's blog, but that's beside the point. One day last week I was tapping away at my computer, vaguely aware of kitchen rustle in the distance. An hour or so later, voilà—I'm being invited for a beautiful bowl of sweet potato soup for lunch. Olive oil, infused with zaatar—an eastern Mediterranean spice blend of sesame seeds, thyme and sumac—is drizzled on top. When I dip my spoon in I find crumbled feta is in the mix, too. What a wonderful combination of sweet and aromatic flavors. And what style (must be that two-careers-ago design training).
I don't mean to imply that having BC cook a meal is something like the 8th wonder of the world. It's not. He went through a long bread-baking phase in the 90s when our boys were little, and then there was the madeleine making period (we all really liked that) and the ceviche-as-school-project-with-kids experiments. Plus he's certainly done his share of better-get-dinner-on-the-table-the kids-are-cranky. For the last while, he's been the go-to pizza maker in our house. Mediterraneanista especially likes that. And if I can ever take a photo of one that does it any justice, I'll definitely share. In the meantime, I'm just loving this surprise soup lunch development.
Categories: