Lunch Karma—It Was Mine!
So Mediterraneanista was into her second day of hard labor at The Storage Room, the extra room of our Manhattan apartment that we keep in Fort Lee, New Jersey. We were switching from a 10x10 to a 10x5—sorting, trashing, agonizing over (OMG, can you believe they actually wore this 8-inch-long shirt; read this poem, no really, he was only 6...) I was hot, hungry and had just done a face plant into a box, tripping over a cement pedestal for a garden statue (don't ask) that I had put in my own way. It was definitely time for a lunch break, but where?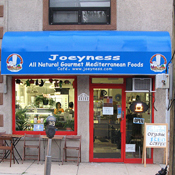 Well, miraculously, just a few steps down Main Street we see a sign:
"Joeyness: All Natural Gourmet Mediterranean Foods."
Was my luck changing? Inside the small café and takeout place, we find three friendly people—chef/owner Joseph Ghazal and his mother and brother—serving made-from-scratch Lebanese specialities. We order falafel wrap sandwiches and tabouleh. While we wait, the Joeyness himself gives us a sample of the vegan lentil soup he's just made. Delicious! Which is not surprising, since Ghazal, it turns out, is a graduate of the Culinary Institute of America. He opened the store three years ago, he tells us, after initially making Middle Eastern spreads for wholesale distribution.
The
falafel, made with chickpeas and favas,
was fresh and soooo tasty; the tabouleh had just the right balance of green to grain and a wonderful lemony zest.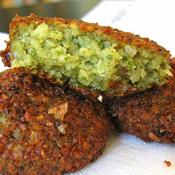 I'm envious of the steady flow of customers who clearly come to Joeyness regularly. What a treat. There are so many other things on the menu I want to try: tabouleh made with lentils instead of bulgur, beef kafta, Mediterranean bean salad and, of course, the "old country hummus" and babaghanoush.
The café is that winning combination of high-quality ingredients, great cooking and, as you sit and eat at one of the small tables, the good company of the people who run the place. As one
Yelp fan
put it:
Joeyness is owned and run by the most delightful chef who is CIA trained, who has taken his love for his profession and combined it with his love for his mother's home cooking.
Bike peeps:
The café is only a mile from the George Washington Bridge in Fort Lee so it's the perfect place (and
menu
, including fair trade coffee) for refueling before heading up Route 9 or River Road, or at the end of your ride before you head back into NYC. That's
my
plan, anyway.
Joeyness
515 Main Street Fort Lee, NJ 07024 201-461-2700
Categories: