At the Market This Week
WHOLE GRAINS, FLOURS, BREAD—it's Greenmarket Grains Week—cauliflower, winter greens, squash and…Peter Hoffman, chef/owner of the restaurants Savoy and Back Forty, doing a cooking demo Friday at Union Square.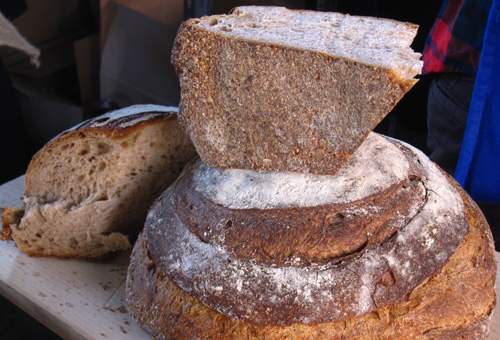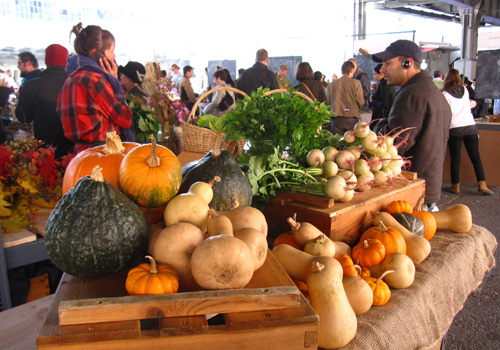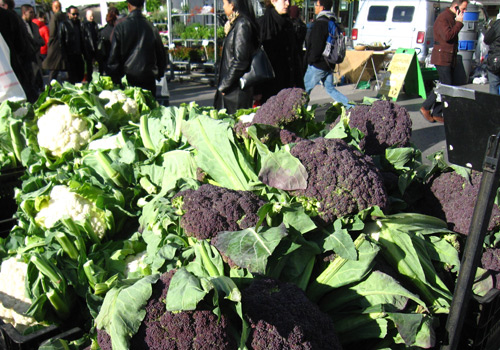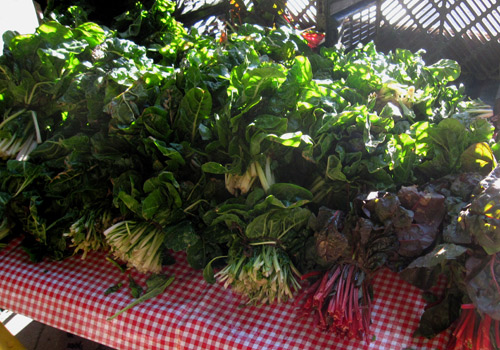 On my way out the north end of Union Square Market this afternoon, I saw a cooking demo and stopped to see what was up. Lucky I did: Peter Hoffman, chef/owner of Savoy and Back Forty, was demonstrating how to make
Spelt and Mushroom Soup with Sage and Sheep Cheese Crostini,
especially for
Grains Week.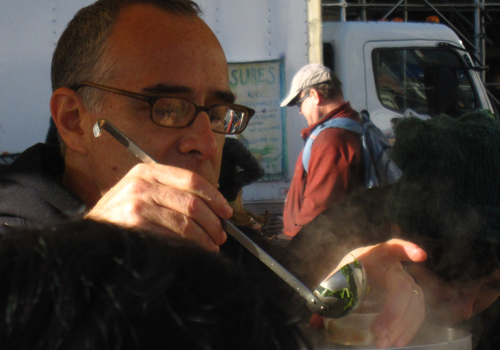 By some miracle, it wasn't super-crowded so we got to stand around and ask questions. Did you cook the spelt beforehand?—Yes, because it takes quite a while. What kind of mushrooms are they?—Today I'm using oyster mushrooms, from right over there at Madura Farms, he explains, pointing to a stand down the way.
Then there was the tasting, of course, and the soup was just right for outdoor eating on this brisk sunny day—warm broth full of flavor, chewy grain. Yum. In fact, everyone seemed to like it, even those for whom spelt was something new. A few reaaaaallly liked it. Or maybe they were just hungry. (One serving, please. No, sorry, we can't give you a third helping.)
Most of the ingredients came from farmers' stands just steps away—the spelt, celery root, greens, sage—which was the point, after all: For two decades, Hoffman has crafted
Savoy
's menus around produce of the season from local farmers whom he's gotten to know over the years. "Savoy is as close as you'll get to Chez Panisse in New York City," one reviewer wrote. Hoffman has been shopping at, cooking from and supporting the Greenmarket for 30 years—including 15 years on its advisory board. Nice to run into him there.
The soup recipe is part of the Greenmarket Recipe Series; you should be able to find it at the market. Peter Hoffman is reportedly working on a book that will recount a year of shopping at the farmers' market, with recipes and reflections. Can't wait to read it. Meanwhile, here's a summer tour of the market with him, from WNYC:
Look for more cooking demos with various chefs on Saturday, November 20
at Union Square Greenmarket.
And to close out Grains Week, don't miss the Flapjack Breakfast
at New Amsterdam Market this Sunday, November 21, 11-1, tickets $20. Sausage and maple syrup are part of the deal!