At the Market This Week—Gathered from the Wild
INTERESTING ARTICLE IN YESTERDAY'S
New York Times
on
chefs using unusual wild ingredients
in their dishes. Nova Kim of Wild Gourmet Food (included in the article) was selling some beautiful mushrooms at New Amsterdam Market when I went last Sunday.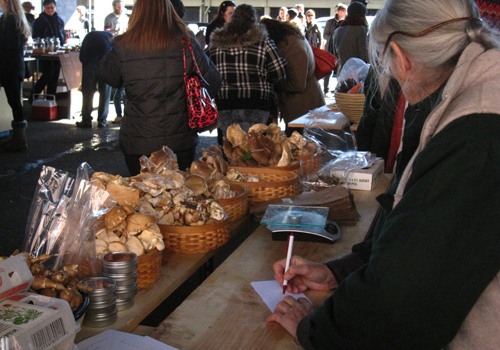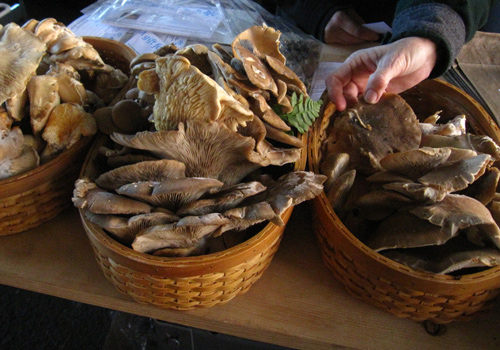 Kim and her partner Les Hook are
long-time gatherers of wild edibles
from the fields and woods of northern Vermont—and spirited educators, whether at the Smithsonian or from behind their stand. "I'm so glad you used the word gather," Kim exclaimed as we chatted about the mushrooms. "Foraging is about ravaging the woods. Gathering and wildcrafting is what we do." (Whew, lucked out on that one.)
The pair have a wild food CSA (Judith Jones, Julia Child's longtime editor, is a customer), and they supply chefs at the New England Culinary Institute (NECI) and high-end restaurants. If you like to gather wild edibles yourself or to cook with them or just think they're a good thing to keep around, you might want to check out
the nonprofit
Wild Food Gatherers Guild
, which Kim and Hook founded with NECI executive chef Tom Bivins—to "sustain the collection of wild foods as a craft and a livelihood."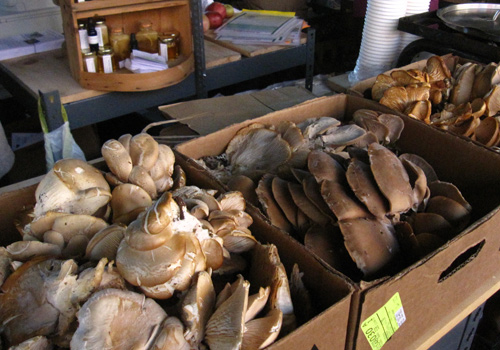 Wild Gourmet Food
will be
back at New Amsterdam Market December 19
, the last day of this year's schedule for the market. Maybe you'd like to visit them and make this
Wild Mushroom Ragù.