Meatless Monday Cure for Thanksgiving Feast Hangover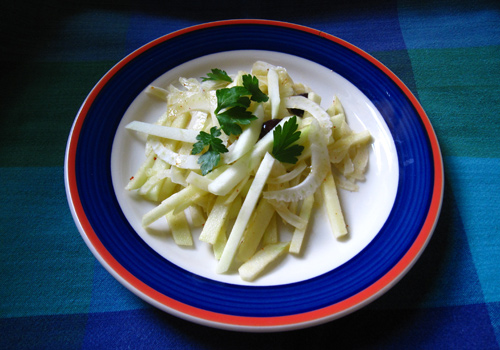 AFTER THE CORNUCOPIA OF COMFORT FOODS shared at the Thanksgiving table (and in the days that followed), I was in the mood today for something clean and crisp and refreshing. This Shaved Fennel and Apple Salad was the perfect answer. The tart apple and the fennel were fabulously crunchy, and the lemony dressing gave it a nice zing. You can substitute your favorite flavors into the salad. I used parsley today; next time I'll try a couple of tablespoons of fresh tarragon or mint. And instead of apple, my mother uses Asian pear in her fennel salad—delicious indeed.
Fennel is popular in the traditional Mediterranean diet—particularly in Italy, but also in France and Greece. It's full of nutrients—vitamin C, fiber, potassium, as well as various antioxidants and phytonutrients. The Florence fennel is what you'll see in markets here, with a big white bulb, topped by long stalks and fronds, all of which can be eaten.
I think the first time I ate fennel was when my mother served her fennel and pear salad to us on one of my visits home. It's not a dish she made when we were growing up; she'd learned it later on, from a friend during a long stay in Italy—making it her own by adding the Asian pears. Fennel is very versatile—eat it raw, as called for in the salad here, or steam, braise, grill or roast it (it caramelizes beautifully). Add it to soups and stews, serve over pasta or bake it with fish. This salad, in fact, works wonderfully served over grilled fish.
Wild fennel
, a different plant, grows all around the Mediterranean; apparently it's found on this continent in California, British Columbia and in other locales, too—perhaps where homesick Italians have planted the seeds. Once established, wild fennel is prolific.
Wild fennel pollen
, once known only in Tuscany, is prized by chefs like Mario Batali and Sara Jenkins (who uses it in her
porchetta
) for the flavor and aroma it brings to a dish.