Mediterraneanista Goes Cycling
In a perfect alignment of the stars (at least for our household), May is both
Mediterranean Month
and
Bike Month.
New York City's outer boroughs are home to so many great Med ingredients and meals, from Greek Astoria to little Italy on Arthur Avenue in the Bronx—and I often get to them by bike. So a celebratory month of riding and eating it will be!
Recently, I cycled out to
Totonno's Pizzeria Napolitano
in Coney Island, where the coal-oven pizza was definitely "worth a special journey," as the Michelin guide would have put it. We got a bit grumpy waiting for our pie (we were cycling, we were hungry!) but when the pizza came, all was forgiven—the freshest of fresh tomato sauces and mozzarella, and a crust that would be delicious just on its own. Hard to believe I've been in NYC all these years without trying it.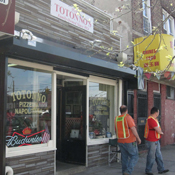 Totonno's opened on Neptune Avenue in 1924—the little one-storey restaurant looks like the closed-in space between two real buildings—then a
fire closed it in March 2009
. Lamentations all around, but luckily, it's back and looking just the same as it must have in the old days—painted tin ceiling, black and white tile floor, a few painted wooden booths, with owner Louise Ciminieri keeping everyone organized (wait outside! sit here!)
Next up, time for another visit to Sahadis on Atlantic Avenue for hummus and olives. Then maybe I'll follow the example of Anthos chef Michael Psilakis and head to Titan Foods in Queens to get me some real Greek feta (and more olives). Tanoreen, a Lebanese Mediterranean resto in Bay Ridge, is on my list, too. I'll keep you posted. Maybe we'll have to extend this into June…
Getting there
(sans bicycle): D, F, N, Q train to
Coney Island-Stillwell Av
Totonno's Pizzeria Napolitano
1524 Neptune Avenue
Brooklyn, NY
718-372-8606