Mediterraneanista's Holiday List, Part 2
Gifts and Treats for You and Yours
CITRUS FRUITS AND FRESH HERBS ARE BELOVED big-flavor ingredients in Mediterranean cooking. When I began making more Med dishes, I was struck by how many lemons I was buying—and zesting and squeezing and slicing. And I loved the new taste adventures with oranges—not eaten just as a fruit in hand, but sliced with tapenade, or zested and juiced for a citronette over grilled asparagus. Almost every Med recipe calls for one fresh herb or another—parsley by the fistful, or rosemary, thyme, mint, oregano in soups, salads, you name it. So here are a few gift ideas for making herb and citrus wrangling a snap for the Mediterranean cook in your life.
COOL KITCHEN TOOLS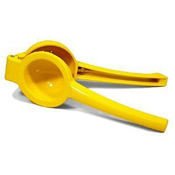 Citrus squeezer
($12). Comes in different sizes for limes, lemons and oranges, but all three might crowd a New York apartment drawer.
You
choose.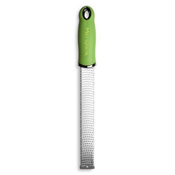 Microplane Zester/grater
($15). After years of struggling with multipurpose gadgets for zesting citrus fruits, using this is heaven. It takes just the zest and leaves behind the bitter white pith with hardly any effort on my part. (Can be used to grate cheese, too.)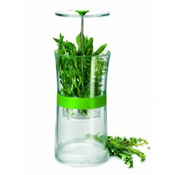 Cuisipro Fresh Herb Keeper
($20).
How many times have you bought a bunch of thyme or mint, used a bit, then had the rest end up lifeless by the time you need it again? Slots in the removable tray hold and hydrate stems while keeping the leaves dry; it can also be used to store asparagus.

MEDITERRANEAN HERB GARDEN
Herbs stay freshest, of course, when they're actually living plants in the ground. I grow indoor pots of basil, thyme, rosemary and oregano in fits and starts. (They do require watering!) These are particularly pretty. Plus: a couple of gift ideas for New York City gardeners who actually have a patch of ground or outdoor terrace.
French Country Kitchen Garden
($22). Three pots, with organic soil, drip tray and seeds for parsley, marjoram and lemon basil.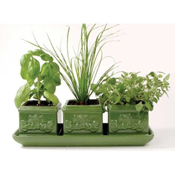 ($25). Three pots, with peat pellets, drip tray and seeds for basil, oregano and chives.
When I had a country garden, I loved Shepherd's Garden Seeds because they sold such exotica (at the time) as Lolla Rossa lettuce and arugula. Renee Shepherd, its founder, now runs Renee's Garden, where you can find a
Container Herb Collection—
seeds for Cameo basil, fine leaf chives, Slow Bolt cilantro, true Greek oregano and Gigante parsley, and
Container Vegetable Collection
—Super Bush tomato, Garden Babies lettuce, Gold Chard, Bush Slicer cucumber and Pizza My Heart pepper. ($14 each)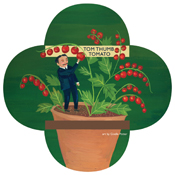 For the outdoor gardener, go local with a
Hudson Valley Seed Library gift membership
($20). Members grow seeds in their home gardens, enjoy their flowers and fruits, and then save seed at the end of the season to return to the library for credit toward their next year's membership. I came across the beautiful
Art Packs
(not included in the $20 membership) at New Amsterdam Market, each seed pack beautifully illustrated by a different New York artist.
You can still catch Hudson Valley Seed at the market Dec 19th.
Mediterraneanista's Holiday Gift Guide: