Mediterraneanista's Holiday List, Part 3
These are the books I find myself turning to again and again, despite all the temptations on bookstore shelves. Chefs and scholars, cooks and storytellers, the authors are the perfect guides for anyone setting out to explore the Mediterranean diet. Perhaps someone you know?
My navigator and my anchor in all things Mediterranean. I like her common sense, her knowledge and perspective on the Mediterranean diet and her dishes. And she tells it all so beautifully.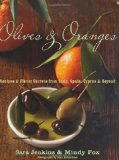 Despite the famous photo of Batali with a string of sausages around his neck, in this book he shares lots of easy-to-make dishes starring vegetables and grains. I've especially enjoyed the salads and vegetable antipasti. Not a vegetarian cookbook, by any means, but we hear that's coming next.