Mediterraneanista's Holiday List, Part 4
KITCHEN SANITY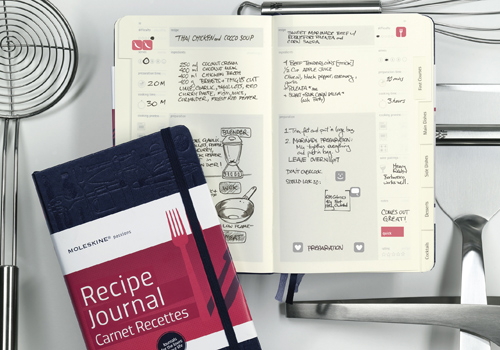 THIS IS THE TIME OF YEAR when I find myself drawn to "getting organized" articles, and only my friend Carol W. surpasses my enthusiasm for new calendars, which for at least a few weeks, I deeply believe must be the key to "New Year, New You!" (I save the old ones, too, but that's another story.) So I want to be sure you don't miss the
Moleskine Wine Journal
, not strictly a calendar, but a way to track what bottle was opened when and avoid those annoying conversations with one's spouse—what was that Tempranillo we liked? No, wait a minute, wasn't that the one we couldn't stand? And the
Moleskine Recipe Journal,
which like the wine journal is slightly bigger than 5" by 8",
has room for squiggles and jottings that are sure to guarantee that the recipe comes out perfectly each time. Think of it as scrapbooking for cooks.
CULINARY APPS
If your iPhone is what keeps your life together, it can help out in the kitchen, too. Mediterranean diet–friendly recipes, time-savers and an encyclopedia of cheese—apps for all tastes.
Jamie Oliver wants to bring his fresh
food revolution
to everyone's household. This follow-up to his hit app
20-Minute Meals
covers some of the same ground, but wins fans because of its user-friendly interface, healthy recipes, basic how-to videos and shopping lists. The free download includes a tasting pack of 10 recipes plus 4 videos, with the option to buy 10 additional packs for $1.99 each.
Cook along with Mario as he demos the app's 63 recipes from different regions of Italy. It's fun and informative: It also includes videos on technique and kitchen basics, plus advice on wine pairings.
All 2,000 recipes from the "less-meatarian" maestro's big heavy book, with quick conversions of recipes into shopping lists and a built-in timer. Latest update includes holiday menus.
History, production info and wine pairings for 750 cheeses.
Scales recipes to more or fewer portions, converts to/from metric.
Suggests solutions if you're in the middle of cooking dinner and suddenly realize you're missing an ingredient. Latest release includes healthy substitutes, too.
Mediterraneanista's Holiday Gift Guide: