My 26/Millionth of an Acre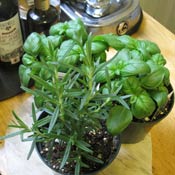 A few weeks ago at the farmers' market, I bought these small pots of basil and rosemary for my kitchen window sill, where every summer I plant a little indoor garden. Aromatic herbs are a big part of Mediterranean cooking, and I love being able to just lean over and pick some sprigs when I need them. Or just lean over and give myself some instant aromatherapy.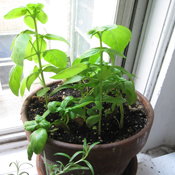 The basil seems to have survived my early neglect. By the time I got around to replanting it, it was well past ready to be put in its bigger permanent pot in the sunny spot it likes best. Let's see how it does. I've already plucked a few leaves, and they were delicious. Maybe I'll pick up a couple of extra plants just as insurance next time I'm at the market.
I've also just planted three pots on another windowsill (my garden runneth over). I can proudly report that my little indoor garden now takes up a full 26/millionth of an acre!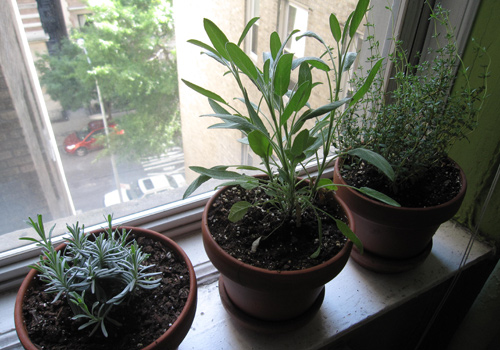 Next, perhaps I'll put two outdoor window boxes in the bedroom windows for a crop of … any suggestions? My husband says orange trees. I like his thinking but alas, this is Manhattan. We'll have to leave the orange growing to my brother Stefan in L.A.
Categories: