Plus Ça Change...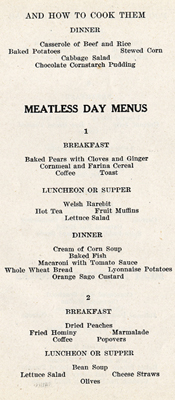 Eat local. Try beans. Home-grown is best. Serve just enough. The Meatless Monday campaign (see yesterday's post) isn't the first time Americans have been encouraged to eat differently.
This poster for a meatless menu is from World War I. Bean soup, olives, lettuce salad for dinner—sounds pretty Mediterranean to me.
When Beans Were Bullets,
an
exhibit at the National Agricultural Library in DC (closing August 30), documents public poster campaigns aimed at changing people's eating habits during the war eras.
You'll find an interview with designer and public historian Cory Bernat, who created the exhibit, on Smithsonian Magazine's
Food & Think blog
.
Categories: