RECIPE: Eggplant Slices, Pomegranate, Yogurt and Tahini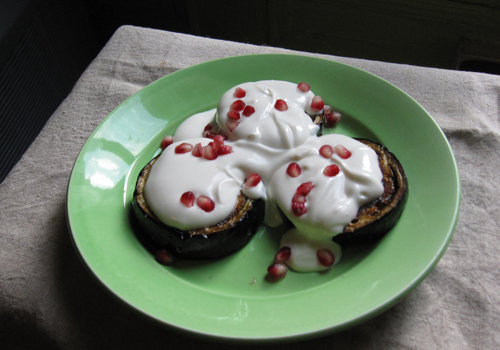 THESE BAKED EGGPLANT SLICES are excellent on their own, but add the pomegranate vinaigrette and the cool yogurt sauce, with its tastes of garlic and tahini, and the dish has some of those big-flavor contrasts that make Mediterranean cooking so interesting.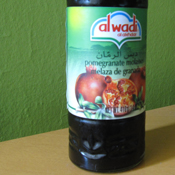 Pomegranate molasses is made by boiling down the juice into a syrup; it's used in quite a few Eastern Mediterranean dishes to add depth and a tart-sweet flavor. This is the first recipe I've used it for—I look forward to trying others. I found it (and the tahini) quite easily by heading straight for Kalustyans on Lexington Avenue between 28th and 29th Street in Manhattan. You should be able to find it at any Middle Eastern or Mediterranean grocer.
Serves 4-6, as appetizer or side dish

4 medium eggplants, cut into
½" rounds
1 tbs pomegranate molasses
1 tbs red or white wine vinegar

2 tbs extra-virgin olive oil, plus extra for brushing eggplant
2 cups plain whole-milk yogurt

(I use half Greek strained yogurt, half regular yogurt; either works fine)

1 clove garlic, minced

2 tbs tahini
¼ cup pomegranate seeds

Preheat oven to 475°F. Brush both sides of the eggplant slices with olive oil and lightly salt them. Place on an oiled baking sheet and bake, turning once, until they're tender and a little brown, about 30 minutes. Arrange on a large plate. Meanwhile, in a small bowl, whisk together the pomegranate molasses, vinegar and 2 tbs olive oil. In a separate bowl, whisk together the yogurt, minced garlic and tahini. Brush the top of the cooked eggplant slices with the pomegranate vinaigrette, then spoon yogurt sauce over them and sprinkle with pomegranate seeds.
Adapted from Claudia Roden,
Arabesque: A Taste of Morocco, Turkey, and Lebanon