RECIPE: Spicy Turkish-Style Yogurt Sauce (Açili Esme)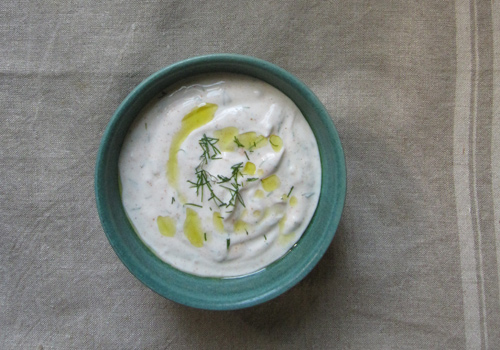 THIS SPICY YOGURT SAUCE is great over lentils, sautéed greens, beans, grains, fish or grilled meat. And it makes a delicious dip, too.
1 tsp sea salt
2-4 fresh garlic cloves, peeled
¾ cup high quality full-fat yogurt
6 tbs strained yogurt (Labna or Greek-style)
½ tsp cayenne pepper (I use a scant ½ tsp)
1 tsp chopped dill weed
extra-virgin olive oil
Pound the salt and garlic together in a mortar until mushy, or mince the garlic cloves in a press and then mix thoroughly with the salt. Blend with the yogurt, labna, cayenne and dill. Turn it into a bowl and swirl olive oil over the surface. Adapted from
The Mediterranean Feast
, by Clifford A. Wright.