RECIPE: Watermelon and Tomato Salad
I WAS SORRY TO HAVE MISSED
NEW AMSTERDAM MARKET
in NYC this Sunday. The only consolation was that I was actually in farm country enjoying the harvest firsthand.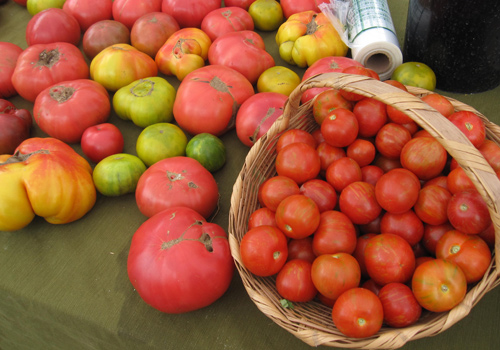 A visit to Millbrook Market in Dutchess County is always a great way to while away a Saturday morning, tasting and chatting and filling your bags. This week, we found lots of
heirloom tomatoes
and had a great talk about them (and Italy) with grower Gino Ianucci. Breezy Hill Orchard (coincidentally, also a vendor at New Amsterdam Market) had perfect
white and yellow peaches,
and there were lovely
small round watermelons
(and more tomatoes) from
Sol Flower Farm
.
We also managed to nab the last
peach tart from
Art of the Tart
—made with fabulously buttery puff pastry in true French rustic style. I'd made the mistake once before of circling the market before buying one of these confections. This time I knew to take immediate decisive action the minute I set eyes on it.
Most of what we bought was devoured in recipe-free eating—tomato slices on prosciutto sandwiches, peaches any time we wanted. But I'd been hearing about watermelon and tomato salad for a while, and now I had the ideal fresh-picked ingredients. So I decided to make one.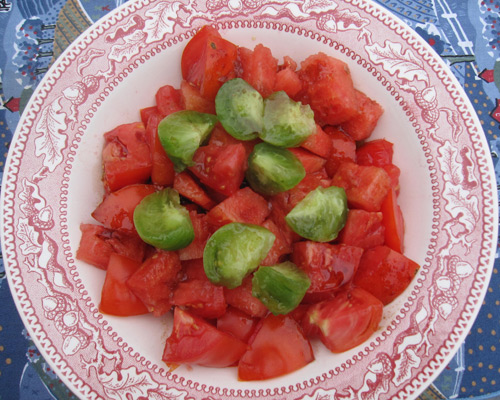 When I first heard about the pairing I thought it sounded unlikely. All summer when I was growing up, we ate watermelon just chopped off in lovely half rounds, which would get you soaked up to the ears. (Preferably, it was eaten outdoors so you could shoot the seeds off "to plant another watermelon" or bop your brother.)
But the more I thought about the textures and tastes of tomatoes and watermelons, the more I liked the sound of it. The taste didn't disappoint—sweet and tart, crisp and juicy, all combined to make a delicious salad. Here's how I made it. I didn't have any feta around, but next time I'd crumble it over the salad for a nice salty zest.
Watermelon and Tomato Salad
1 cup watermelon chunks
3 medium tomatoes, cut into similar size chunks
2 tbs olive oil
1 tsp balsamic or red wine vinegar
salt to taste
Combine the watermelon and tomato chunks. Whisk together 2 tbs olive oil and 1 tsp balsamic or red wine vinegar. Pour dressing over watermelon and tomatoes. Toss lightly. Salt to taste. Crumble feta cheese over salad. Happy Meatless Monday!