RECIPE: Wild Mushroom Ragu with Bucatini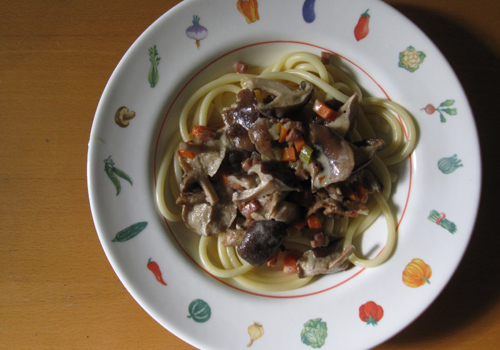 WITH MUSHROOMS POPPING UP IN THE WOODS and in markets, this seemed like the perfect Friday night dinner this week. I did some one-stop shopping for the ingredients at Eataly, where I found shitakes and chanterelles, along with Barilla dried bucatini and prosciutto. (This recipe is a perfect example of the Mediterranean meat-as-condiment idea.)
Serves 4
2 tbs extra-virgin olive oil
1 small carrot, finely chopped
1 small celery stalk, finely chopped
1 small onion, finely chopped
3½ ounces prosciutto (sliced ⅛-inch-thick), cubed*
1¼ pound mixed wild mushrooms, such as shitake, chanterelle, trumpet or blue foot, trimmed and halved
¼ cup vegetable broth
¼ cup water
Salt
Freshly ground black pepper
¾ pound bucatini or spaghetti
½ cup heavy cream
*Although I didn't use it today, Citterio makes a 4 oz. package of cubed prosciutto (with no weird additives—ham and sea salt are the only two ingredients) that's super convenient.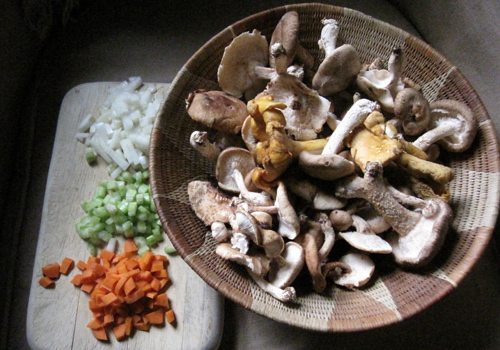 Heat oil in a large skillet over medium heat. Add carrot, celery, onion and prosciutto; reduce heat and cook, stirring occasionally, until vegetables are softened, about 7 minutes. Add mushrooms, broth, water and pinch salt and pepper; stir to combine. Reduce heat to low, cover and cook, stirring once or twice, until mushrooms are very tender, about 30 minutes. Bring a large pot of salted water to boil. Add pasta and cook until al dente. While pasta is cooking, warm cream to a simmer. Drain pasta, transfer to a large serving bowl, add hot cream and mushroom mixture, and toss to combine. Season with salt and pepper, and serve.
Adapted from a recipe in
La Cucina Italiana.
Categories: