Running Late? This Sauce Could Save the Day
WHEN I SEE THE TWO NAMES Deborah Madison and Clifford Wright mentioned together, I sit up and pay attention. I still remember being swept off my feet by the first real gourmet vegetarian meal I'd ever eaten—it was at Greens Restaurant in San Francisco, where Madison was founding chef. In the years since then, I've cooked some unforgettable dishes and meals from her cookbooks. (It will soon be the season for
roasted squash, pear and ginger soup
again!) Clifford Wright is a scholar of Mediterranean food and culinary history—and a wonderful writer (see his column at
Zester Daily
) and
book author
.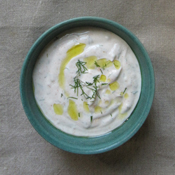 This afternoon, thanks to an article that caught my eye at food website
Culinate
, my plan for the day has been tossed aside and here I am suddenly making "Cliff Wright's Yogurt Sauce"—at Deborah Madison's suggestion.
I ate the yogurt sauce over lentils, because Madison's description was irresistible:
I had gone to visit my friend, the cook and historian

Clifford Wright,

and I was ravenous when I got to his place. I knew I had to eat a little something, even though the hour was not an eating hour; it was 4 o'clock, and a wonderful dinner would be coming soon.

But Cliff, who is a world traveler, understood that travel takes its toll on appetites and their timing, so with no fuss at all, he served up a dish of lentils and set it down before me, along with a bowl of yogurt sauce.

I spooned the yogurt into the lentils, inhaled, then dove in. At that moment, those lentils and that yogurt were the most delicious foods I had ever eaten.
They were delicious in the middle of my workday, too, when all of a sudden it was afternoon and I hadn't eaten lunch yet.
I'll be making sure I have some of this sauce around (or at least the ingredients for making it) because I believe it when Madison says it works with everything: drizzle it on pita sandwiches, add it to a plate of beans or grains or sautéed greens or vegetables or grilled fish. Sounds perfect for when hungry Mediterraneanista is feeling lazy or has suddenly noticed it's time for dinner. Oops, just saw the time—might be eating yogurt sauce twice today.