Sunday Dinner: Baked Mediterranean Chicken with Cherry Tomatoes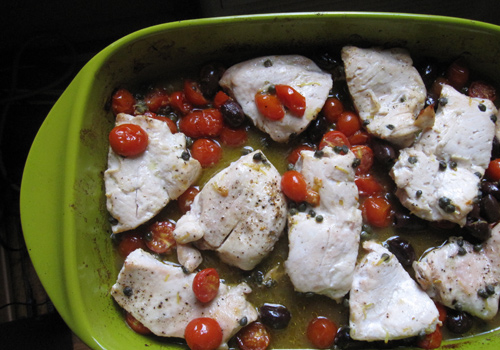 I DON'T KNOW ABOUT YOU, but I never get tired of meals that involve cherry tomatoes. And I'm still finding boxes of them at the greenmarket—sweet, irresistible, without the thick skins that so many store-bought ones now seem to have. (On and off, after the local season has finished, I'm able to get really tasty hothouse champagne cherry tomatoes from Canada, sold loose in a box at Fairway. Champagne prices, too—$5/lb—but worth it.)
Tonight I'm using cherry tomatoes in a chicken dish that is full of Mediterranean flavors and a cinch to make. That's another reason it's a Lazy Mediterraneanista favorite. The key is to have the basic ingredients in your pantry or fridge, ready to go. Extra-virgin olive oil, yes, but lemons, olives and capers, too, are staples of so many Mediterranean dishes. I always keep a supply of pitted (!) Niçoise olives, which I find at Zabar's, and capers (often from Fairway). That way, I can have this meal ready pretty quickly. I timed myself the last time I made it: 30 minutes flat, from prep start to table.
A note about portions: The recipe calls for 2 chicken breasts, which—if you're taking the Mediterranean approach—will serve 4 to 6 people, depending on the weight of the chicken parts. Do I sense raised eyebrows? Well, I weighed the chicken I'm using today—believe it or not, each piece was anywhere from 8 oz. to 12 oz. (God knows what they're feeding those chickens.) A half- or three-quarter pound chicken breast is definitely not a single serving of meat—more like 2 or 3 servings each, when you use the 3 oz. food pyramid portion size, or the well-known deck-of-cards measure. But in a Mediterranean meal, you will fill most of your plate with something other than meat. Or have a couple of other non-meat courses as well. So no chance of starving!
I often serve this dish with a heap of roasted root vegetables. Tonight we're having quinoa and sautéed greens. I also like it with small steamed new potatoes and a green salad. I sometimes double the recipe because it's good reheated, too—for a 10-minute dinner the next day.
Categories: