Tomato Sauce—Yes!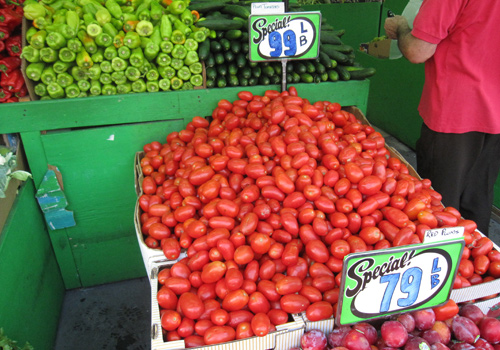 Reader John writes:
At this time of year all over Toronto, a huge harvest of Roma tomatoes hits the streets. In all the Mediterranean neighbourhoods, every corner store has bushels and bushels (and bushels) of ripe, beautiful Roma tomatoes, filling the sidewalks and ready for processing. Having done a bit of this myself I can only marvel that people drive away with 2 or 3 bushels at a time. That's factory work! My modest efforts, however, still provide me with a winter's worth of great tasting tomato sauce for pasta. I learned how to make the sauce from a Sicilian friend while on holiday in London, not the likeliest place to discover these things. It's more a method than a recipe and has served me well over the years.

Buy a small amount of tomatoes (20 to 30, depending on size). The idea is to avoid scaring yourself into inaction. Wash them and with a very sharp knife, dice them finely (1/4" or so). This makes it unnecessary to peel the tomatoes. Place them in a large pot and heat as slowly as possible, stirring until enough juice is released. Add finely chopped garlic, fresh basil, salt and pepper to taste. Add a finely chopped carrot or two (1/8" cubes) for taste and colour. Add a very generous dollop of your best extra-virgin olive oil. Stir gently and enjoy the aroma while cooking for a couple of hours at an extremely low temperature. Adjust the seasoning, perhaps adding a pinch of sugar if it tastes too sour.

After cooling I put them in small containers (like a single serve yogourt container) and freeze them. Perfect Friday night dinner! Thaw the sauce in a microwave, serve over pasta and enjoy with spinach or a salad. Fresh, pure and simple.

Each year I make 2 or 3 small batches within several weeks, partly not to get intimidated by the work and partly to vary the taste slightly. It's easy and very rewarding, both during the cooking and during the eating.
I'm inspired! John's sauce sounds delicious and I like his anti-intimidation tactics. Get me some tomatoes! I haven't found reasonably priced Romas in bushel basket quantities in NYC, but I'm sure I must just be looking in the wrong places. Anyone know where to buy?
My (English) mom and (Polish) dad used to bottle Roma tomatoes, especially after we kids left home, when they had more time for such things. They usually broke up the work over a few days, my mom was telling me recently, working in a two-person assembly line, peeling the tomatoes and bottling them whole, ready to use in all sorts of recipes. The supply lasted through the winter, and I was the beneficiary of a few jars whenever I went home or they came to visit. I still remember the summer-ripe taste.
I was reminded of this recently when my son Chris, who spent the summer doing moving jobs in Toronto, told us how he was feelin' the pain because so many of the Italian households he was moving had cold storage rooms in the basement (as in, the level reached by a long, steep, narrow staircase)—filled with the vital supplies of a Mediterranean kitchen: preserved tomatoes (how about 10 boxes, each filled with 12 Mason jars?), massive tins of imported olive oil, big glass containers of wine at various stages of production. Even a curing ham hanging from the rafters in one place (more interesting than heavy, especially since the owner offered the movers samples before they left). Ah, Italia.
Categories: