I JUST GOT MY WEEKLY E-MAIL FROM MERMAID'S GARDEN, the CSF (Community Supported Fishery) I belong to, telling me what fish had been caught this week for me—and the other 200+ CSF members. Monkfish!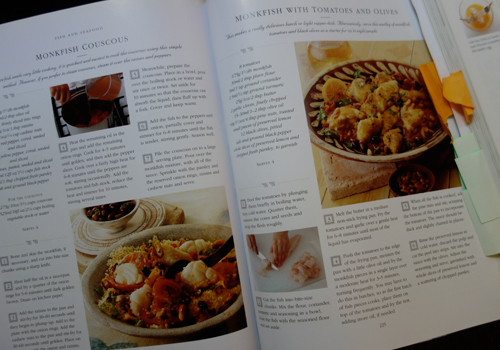 I will never forget the first time I ate monkfish. We were on the road somewhere in southern France—on the outskirts of Orange, I think, in the Vaucluse—and we stopped at a bistro for dinner. On the menu, under Poisson, was something called lotte. "What is this lotte?" I inquired. "Une espèce de poisson," was the reply ("a type of fish"), which was about as helpful as when I had asked—this time in bilingual Montréal—"what is the soupe du jour?" and the answer came back: "the soup of the day." Really? I'd been hoping for a few more details. For starters, was lotte an ocean fish, from the Mediterranean, a lake, a stream? Was it mackerel cousin or might-as-well-be-Dover-sole? Anyway, I decided to take a leap of faith, and it turned out to be delicious. I've eaten it more than a few times since, especially enjoying it in Mediterranean soups and stews.
This time around, thanks to Bianca and Mark at Mermaid's Garden, I learn quite a bit more about the fish itself. As they wrote in their e-mail:
"There are a lot of interesting things about Lophius americanus, but perhaps the most curious thing about this fish is what and how it eats. Recently we got an email telling us about a monkfish that was caught with seven ducks in its belly! We passed the news along to a fisherman friend of ours on the Cape, who said, "A monkfish tried to eat my leg once. Did some good damage to my boots." Turns out that monkfish will eat just about anything they can fit into their gigantic mouths, which may be why another common name for the fish is devilfish. Monkfish are anglers, which means they catch their prey using a lure called an esca that is attached to the top of the fish's head. Anything that touches the esca triggers an automatic reflex of the monkfish's jaw. Monkfish like their dinner to come to them, so they mostly spend their time buried into the sea floor or "walking" slowly along it on their sturdy pectoral fins."
I also learn from them that in the late 1990s, monkfish populations had become overfished. "This fact, combined with the fact that most monkfish are caught in trawls, which can harm the ocean floor, led to monkfish being an unsustainable choice." However, today, "monkfish populations exceed target levels, and both trawl and gill net fishermen employ quite a few mechanisms to reduce bycatch."
My particular monkfish was gill netted off Montauk on the F/V Sea Devil—pretty funny, considering the fish's nickname—"by a fisherman who refers to himself as Billy the Kid. Known to others simply as 'the kid.' (We are not making this up, Mark and Bianca write, "pinky swear.")
Monkfish may be one of the ugliest fish in the sea, but its taste redeems it: fresh, slightly sweet, with a firm texture, it's been called "poor man's lobster." And it's full of goodness: niacin, vitamins B6 and B12, potassium, as well as being very good source of selenium. It has a gray membrane surrounding the flesh, which your fishmonger can remove, or you can do it yourself (with the help of this video—start at minute 3:10).
How to Cook It? Knowing that Mediterranean cuisines like to use monkfish, I start browsing my cookbooks and the web, looking for recipes. I find monkfish couscous, roasted monkfish with tomatoes and olives, Andalusian monkfish ragout. Jamie Oliver has what looks like a delicious grilled or roasted monkfish with black olive sauce and lemon mash, just the kind of full-of-Mediterranean-flavors dish I like. Sara Jenkins's Olives and Oranges, includes a monkfish dish with her wintertime take on Sicilian caponata, made from olives, potatoes and sun-dried tomatoes. I made this the last time we had monkfish, and I'd be happy to eat it again, but I'm in the mood to be adventurous. Mark Usewicz, the chef behind Mermaid's Garden (Bianca's a marine biologist) has posted a couple of delicious sounding recipes on Mermaid's Garden's Facebook page: Mark's Monkfish with Clams and Cranberry Beans and Mark's Fish in Mustard Curry. (I noticed this week that Dave Pasternack's Il Pesce, Eataly's fish restaurant, has a monkfish/clam combo on its menu right now, too: Crispy Monkfish Cheeks with Local Clams, Steamers and Meyer Lemon Aioli. The cheeks are quite small and a prized delicacy, I hear.)
To tell you the truth, these dishes all sound good, making it hard to choose. In the end, though, to take advantage of how super, super fresh I know this fish will be, I decide on Monkfish "Carpaccio," from Patricia Wells At Home in Provence. The recipe is beyond simple: thinly sliced monkfish, which is then grilled for less than a minute, with only olive oil, lemon juice, chives and sea salt added. I like the idea of the sweet flesh of the fish taking center stage. To accompany it, I'll make a simple green salad, and I have the perfect bottle of Muscadet Sèvre et Maine, from Domaine de la Pinardière, chilling in the fridge. Crisp, clean tastes all around.