DON'T YOU LOVE A CUISINE that insists on 13 desserts for a proper celebration? That's the
Provençal tradition
for the
gros souper
on Christmas Eve, which I imagine must leave leftovers for days after that. Here are a few sweets our household is particularly fond of at this time of year.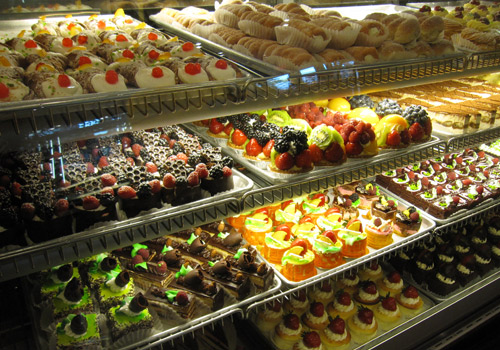 This summer I stumbled upon Villabate Alba Pasticceria in Bensonhurst (what planet have I been on that I hadn't even heard of it?). The cannoli at this Sicilian pastry shop, made with ricotta straight from Palermo and with the lightest, crispiest shells, were heaven—the BEST I've ever tasted. (Ask my family; I'm really picky when it comes to this popular dessert.) Even though Sicilians originally ate cannoli only during Carnevale, to heck with tradition; I'm going to make a point of treating my house guests to some this Christmas. Because it's all about them, of course.
Villabate Alba Pasticceria & Bakery
7001 18th Avenue (and 70th Street) Brooklyn, NY 718-331-8430 718-232-2122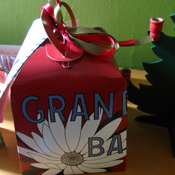 Closer to home, I'll pick up some
panettone
, the Milanese bread-cake studded with raisins and candied citrus peel that is eaten at Christmastime. There are wonderful (certa apocryphal)
stories about its origin
.
I usually get the boxed version that's flown in to New York stores from Italy during this season. But Grandaisy Bakery's
fresh-baked panettone
, made "true to tradition with rum soaked raisins, citron and a touch of honey," is quite a treat, I've discovered. It comes in 2lb ($16) and 4lb ($26) sizes and will be sold through Three Kings Day. (You can also
order online
for $26 and $36, including shipping.)
Grandaisy Bakery
(3 locations) 250 West Broadway 73 Sullivan Street 176 West 72 Street (and Amsterdam) New York, NY
212-334-9435
What's your go-to source for panettone in NYC? And how do you like to eat it? Toasted for breakfast? As an after-dinner sweet with prosecco? Let me know in the comments box below.
We're going to start a new tradition in our household today. Thirteen desserts. Merry Christmas to all!