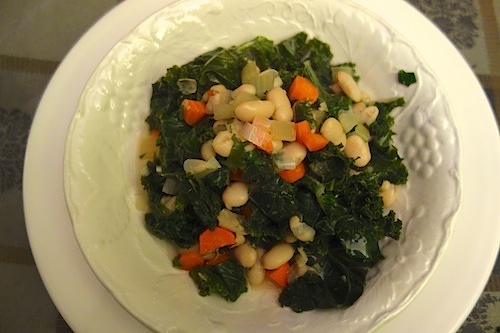 I BECAME A KALE FAN JUST A FEW YEARS AGO when my friend Brenda made an amazing kale and roasted chicken recipe for a dinner party. But since today is Monday—Meatless Monday—that recipe will just have to wait. Instead, how about this amazing stew of kale and white beans, adapted from a recipe by
Chef Dan Barber
, of Blue Hill and Blue Hill at Stone Barns? Not only is it a delicious mix of tastes and textures, but it's positively overflowing with goodness.
Kale is one of those superfoods. "Move over Popeye and make room for the 'queen of greens,' kale," advises
WebMD
: One cup of kale has 5 grams of fiber, we learn, 15% of the daily requirement of calcium and vitamin B6, 40% of the magnesium requirement, 180% of vitamin A, 200% of vitamin C and 1,020% of vitamin K. (Too much vitamin K isn't good for everyone. Anyone taking anticoagulants, for instance, is advised to avoid kale.) Kale is also a good source of minerals. Check out the whole
list of nutrients here
. Choose organic kale, when you can, because conventionally grown has been found to have
pesticide residues
of particular concern.
Serve this stew with crusty bread for a wonderful light supper. Leftovers are great for lunch, too.
Kale and White Bean Stew
Serves 4
1 1/2 lbs kale leaves, center ribs and stems removed
3 tbs extra-virgin olive oil
1 cup peeled carrots, chopped
1 cup celery, chopped
4 chopped shallots
2 garlic cloves, finely chopped
1 cup dry white wine
2 15-ounce cans cannellini or other white beans (preferably organic), drained
6 San Marzano canned tomatoes, roughly chopped
4 cups (or more) vegetable broth
3 fresh thyme sprigs
1 bay leaf
1 tbs Sherry wine vinegar
a handful of assorted chopped fresh herbs (such as tarragon, parsley, chives)
Cook kale for 1 minute in large pot of boiling salted water. Drain. Transfer to bowl of ice water to cool briefly. Drain and squeeze out excess water. Coarsely chop kale. Heat olive oil in medium pot over medium heat. Add carrots, celery, shallots and garlic; cook until soft, stirring, about 15 minutes (do not brown). Add white wine and simmer until liquid is slightly reduced, about 7 minutes. Add white beans, tomatoes, 4 cups broth, thyme sprigs and bay leaf and bring to boil. Reduce heat to medium-low and simmer 20 minutes. Add kale and simmer 5 minutes longer. Remove thyme sprigs and bay leaf. Add more broth by 1/2 cupfuls to thin stew, if desired. Mix in Sherry wine vinegar and chopped fresh herbs. Season with salt and pepper.
Read More »