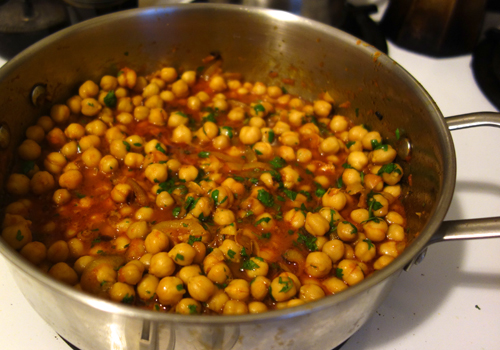 PART OF WHAT I LOVE ABOUT THE MEDITERRANEAN DIET is how varied it is—you never get bored. This many-flavored cooking isn't surprising really—the Mediterranean Sea reaches the shores of more than 15 countries, and each culture brings its own flair and flavors—from tagines to taboulleh, ratatouille to risottos—to the basic ingredients of the traditional Mediterranean way of eating.
The ingredients:
~An abundance of plants: vegetables, fruits, grains (mostly whole), pulses (legumes like beans and lentils), nuts and seeds
~Olive oil as your major fat (substituting for margarine or butter)
~Fish, seafood, poultry a couple of times a week (especially fish)
~Every-other-day-or-so eggs, cheese and yogurt
~Red meat less often (a few times a month)
~Wine with meals (in moderation—one or two glasses for men, one for women), unless it puts you at risk, of course
Choose Your Favorite Flavor. 
What's interesting is that, traveling beyond the shores of the Mediterranean, you can find inspiration for even more meals made with these building blocks of the traditional healthy Mediterranean diet. The other day, I couldn't resist a recipe for "Chickpea Curry and Cucumber," from Meeru Dhalwala and Vikram Vij, chef/owners of Vij's ("easily among the finest Indian restaurants in the world,"
writes Mark Bittman
) and Rangoli restaurants in Vancouver. A friend in Montreal gave me her extra copy of one of their cookbooks, 
Vij's at Home
—lucky me. The subtitle, "Relax, Honey: The Warmth and Ease of Indian Cooking" says everything about its approach.
A Familiar Ingredients List. It struck me right away how many characteristics this recipe for a "warm salad" shared with so many in the Mediterranean diet: It's a one-dish meal of beans and vegetables—warm chickpeas with tomatoes, with the lovely contrast of cool cucumbers.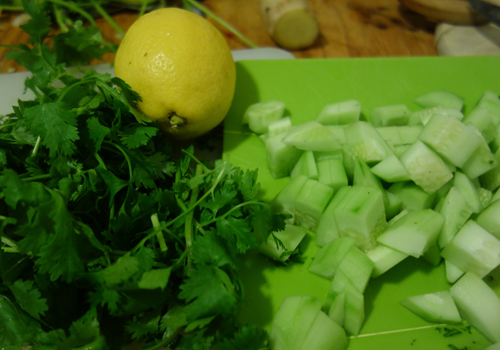 These are all made irresistible with the
big flavors
of various
spices and herbs
—ginger, peppers, cilantro—and
citrus
. Since I usually cook with extra-virgin
olive oil
, I just went ahead and used it in this dish, too. (The first time I made this, I couldn't find mango powder but that problem was solved by a visit to
Kalustyan's
, whose selection of fresh spices is hard to beat.)
It's great to discover another take on chickpeas-as-a-meal: This will definitely become a regular on our table—it's simple and quick to make on a work night. So for anyone who's interested in the health benefits of the Mediterranean diet and loves Indian flavors, the basic ingredients above are endlessly adaptable.

Kalustyan's
  123 Lexington Avenue, New York, NY 10016 212-685-3451