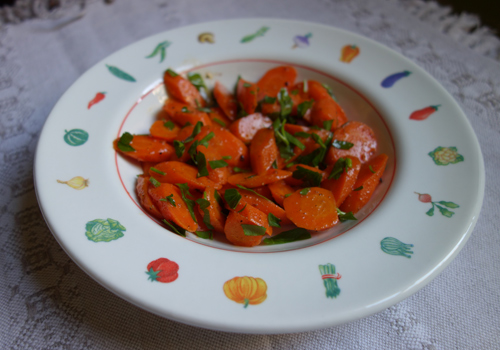 I'VE COME ACROSS MANY DIFFERENT VERSIONS of Tunisian and Moroccan carrot salads. Some are made with julienned raw carrots, often with raisins added. This one, though, is made with cooked carrots, which are tossed with a spicy citronette at the end. (Tunisian carrot salad is sometimes garnished with hard-boiled eggs and olives, a version that would make a great light lunch on its own.) A good harissa (hot chili sauce), made at Les Moulins Mahjoub in Tunisia, is available at
Le Pain Quotidien.
Serves 4, as side dish
1 lb carrots, peeled and cut into thin (1/4-inch) angled slices
2-3 tbs lemon juice (depending how lemony you want it)
½ tsp ground cumin
¼ tsp ground cinnamon
1/8 tsp cayenne (or more, to taste)
1/8 tsp harissa
4 tbs extra-virgin olive oil
Handful of flat-leaf parlsey, chopped
Sea salt
Freshly ground black pepper
Boil a medium saucepan of salted water and cook the carrot slices for 5 to 6 minutes. Don't let them get mushy. While the carrots are cooking, whisk together the lemon juice, spices, harissa and extra-virgin olive oil in a small bowl. Drain carrots, let cool a little and place in a bowl. Add the citronette to the carrots and the parsley and toss gently. Let stand for 10 minutes or so, so that the flavors combine. Add salt and pepper to taste.