Gifts and Treats for You and Yours
We've made some wonderful discoveries this year during our travels around New York City's five boroughs and beyond, on the trail of one Mediterranean essential or another. So if you want to add a little Mediterranean flavor to your holiday, I have a few suggestions.
You can get many of these items online, but for some, alas, you'll have to jump on the subway (or your bicycle) and head over to one of the amazing Mediterranean shops that dot New York. For me that time will be part of the pleasure: When I stop in at Eataly or Despaña, say, with my Christmas list, I plan to sit down and drink a coffee, order a few pintxos or a pizza or pasta and rest awhile until I'm ready for another whirl of Christmas preparations.
OLIVE OIL LOVE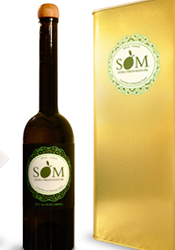 This summer I visited Hester Street Market quite a few times, motivated to take the 7-mile bike ride from home because I knew Guerrilla Ice Cream would be waiting as a reward. One day, Mediterraneanista had an extra treat: I discovered

SOM Extra-Virgin Olive Oil

.

Asena Basak was at the market giving tastes and selling the cold-pressed extra-virgin olive oil her family produces on their farm in Milas, Turkey near the Aegean coast. It's a delicious estate-bottled extra-virgin oil, made from Memecik olives grown by the family. The 2010 harvest will be available in April or May. (Follow

SOM on Facebook

.)
Back on the Upper West Side, I recently ran into the Franks (Castronovo and Falcinelli) at our local Whole Foods. The chef/owners of the Greenmarket-driven Frankies Spuntino restaurants are very friendly guys;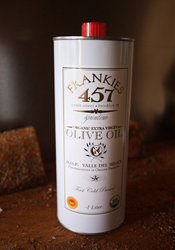 they were there showing off their new cookbook,
The Frankies Spuntino Kitchen Companion & Cooking Manual
, and giving us tastes of their amazing olive oil cake, pretzels and other goodies. As if cookbook writing and running
Frankies 457
in Brooklyn and Frankies 17 on the Lower East Side isn't enough to keep them busy, the pair go to Sicily every year to oversee the production of
Frankies Extra-Virgin Olive Oil
— cold-pressed from organically grown Sicilian olives in the Nocellara del Belice DOP (Protected Denomination of Origin). They were expecting a shipment from the new harvest any day.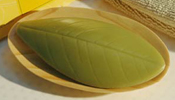 Mediterraneanista likes her olives any way she can get them. This
Jardin de l'Olivier olive oil soap
($8.50) is nourishing for the skin—and what a beautiful
objet
, with its olive leaf shape, don't you think?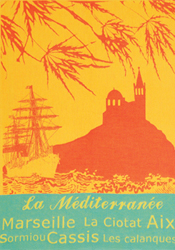 And the
"Olive Tree" and "Mediterranean" tea towels ($21),
made in France by Tissage Moutet, are almost too pretty to use. They're woven in cotton by a fourth-generation business located in Orthez, a town in the foothills of the French Pyrénées.
AND SOME LAVENDER, TOO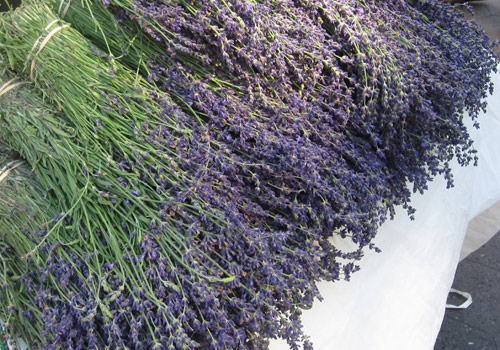 Go to Union Square Greenmarket any Monday or Friday this month, and you'll find
sachets and
dried bunches of lavender
from
Lavender by the Bay
to make you think of summer and Provence. Or White Flower Farm has a
lavender plant in a gray glazed pot
($42) that is hard to resist.
GIVE THE COOK A NIGHT OFF
On Christmas Eve, Bistro de la Gare will celebrate with a traditional Italian "Night of the Seven Fishes" dinner as a prix fixe menu for $65 (tax, tip and wine not included). As of 12/10, tables are still open for some times between 5:30 and 10:30 that night.
~Make reservations at 212-242-4420.
I love the seasonal Mediterranean menus at this Greenwich Village restaurant. Here's what chef/owners Maryann Terillo (formerly of Jarnac) and Elisa Sarno (formerly of Babbo) have in store for Christmas Eve:
La Notte dei Sette Pesci
Amuse: Baked Cherrystone Clams and PEI Mussel "Oreganata"
Antipasto: Baccala Three Ways—Fritelle di Baccala, Insalata di Baccala, Baccala Venizia
Salad: Shaved Fennel and Roasted Peppers with Bagna Cauda
Pasta: Seppia Ink Fettucine with Jumbo Lump Crabmeat
garnished with Grilled Octopus
Secondi: Fritto Misto—Eel, Fresh Shrimp, Oysters, Calamari and Skate with 3 sauces: salsa verde, salsa rossa, maionese limone
Dessert: Bowls of Fresh Fruit and Nuts, Struffoli
Bistro de la Gare
626 Hudson Street (near Jane) New York, NY 212-242-4420
Make life with holiday crowds easy:
Cobble Hill restaurant Brucie has a
lasagna drop-off service
, we learn over at
Tasting Table
. Bring your pan in one day; pick up your meal-for-a-crowd the next evening on your way home. Great combos made with top-quality ingredients: eggplant, tomato and Swiss chard, goat cheese and mushrooms, roast pork and butternut squash.
Brucie
234 Court St. Brooklyn, NY 347-987-4961
AN INSIDER LOOK AT EATALY

The giant Italian food hall that opened this summer at 23rd and Fifth offers classes at La Scuola di Eataly, which is headed up by Lidia Bastianich. Eat-Ineraries ($35) are one-hour small-group guided tours led by a senior staff member, with behind-the-scenes peeks at all the departments and tastings along the way. Chef's Kitchen ($110–275) lets you join chefs like Esca's Dave Pasternack, Manzo's Michael Tosano, Del Posto's Brooks Headley and Dean of La Scuola Lidia Bastianich for a demonstration and tasting (with wine pairings) as they prepare a signature dish. And there are classes with artisanal food purveyors like Pat LaFrieda and Eataly wine director Dan Amatuzzi. (See the Jan–Mar schedule here.)
To give a particular class as a gift
,
register the recipient online
for that class. Once the registration is complete with credit card approval, that space is reserved. If you like, you can then contact
lascuola@eataly.com
to obtain a certificate stating the class for which the gift recipient is registered.
Or you can buy an Eataly gift certificate, available only in the store, not yet online, but this doesn't reserve a place in a class, and some sell out quickly (the classroom seats 22 for tastings, 20 for Chef's Kitchen).
Eataly NYC
200 Fifth Avenue (enter on Fifth or 23rd) New York, NY 212-229-2560 lascuola@eataly.com
Mediterraneanista's Holiday Gift Guide: