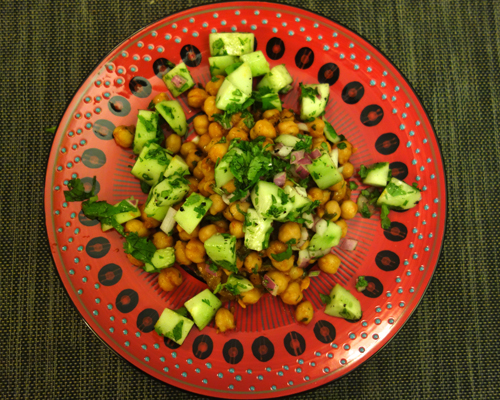 THIS WARM SALAD—chickpeas with cucumbers as a garnish—makes such a tasty one-dish supper. The next day, when I often seem to have more cucumbers than chickpeas left over, I reverse the balance: cucumbers with a little chickpea garnish makes a fantastic lunch.
Serves 4, as main dish for dinner
Chickpea curry
1/3 cup extra-virgin olive oil or other cooking oil
1 large onion, halved then sliced
2 tbs finely chopped fresh ginger
1 tsp to 1 tbs chopped jalapeño pepper (optional)
1 cup canned tomatoes, drained and crushed
2 tsp mango powder
1 tbs paprika
1 tsp turmeric
1 tsp salt
1 cup water
2 15 oz. cans chickpeas, drained
½ cup finely chopped cilantro (or 1 tbs dried green fenugreek leaves)
Cucumber
1 English cucumber, peeled and diced in ½ inch cubes (I used 3 Kirbies since I'd just bought them at the market)
¼ tsp black pepper
½ small red onion, finely chopped
2 to 3 tbs fresh lemon juice
½ to 1 tsp salt
½ cup chopped cilantro
Curry
1.     Heat oil in a medium pot on medium high. 2.     Add onion and sauté until lightly browned (up to 8 minutes). 3.     Stir in ginger and jalapeño and sauté for 1 minute. 4.     Add tomatoes, mango powder, paprika, turmeric and salt, stir well and cook for 4 to 5 minutes, or until oil glistens on top. 5.     Pour in water and chickpeas, stir well and bring to a boil. Reduce the heat to low, cover and simmer for 5 minutes, stirring once or twice. 6.     Stir in cilantro and let curry cool for 30 minutes.  
Cucumber
1.     In a medium bowl, combine cucumber, black pepper, red onion and lemon juice. 2.     Mix well and refrigerate, covered, until you need it. 3.     Just before serving, add salt and cilantro and toss.  
Adapted from
Vij's at Home: Relax, Honey: The Warmth & Ease of Indian Cooking
, 
by Meeru Dhalwala and Vikram Vij.