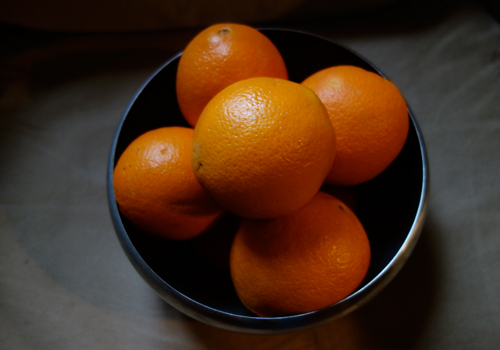 TODAY I'M GOING TO PRETEND I'M IN NICE at La Zucca Magica, not in New York City with Snow Blizzard Nemo happening outside my window. It's citrus season—hooray!— and a bowl of beautiful oranges makes my fantasy almost seem real. And I mean fantasy: I've never actually been to La Zucca Magica, but I take
Mark Bittman's word
 that it is a marvelous place to be—a vegetarian restaurant whose dishes are never ascetic or meager, with the produce bounty of Provence at its doorstep. What I do know is that, thanks to Bittman and La Zucca, I regularly eat an
appetizer of orange slices and tapenade
that he discovered there. I'm sharing it with you now so that you, too, can ignore the snowpocalypse outside your window and delight in orange season.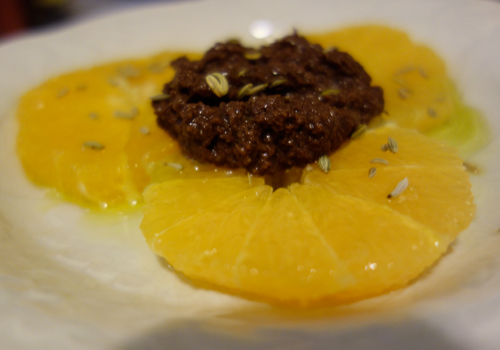 Top-quality ingredients are key here—as they are in many simple Mediterranean dishes that are more combinations of ingredients than complicated recipes.
I make this dish super-simple by using a ready-made tapenade from Moulins de la Brague in Opio, a village near Grasse in Provence. No, unfortunately I wasn't able to drop in to the Moulin to pick up a jar; I purchased it at
Fairway
.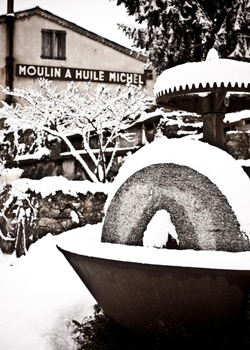 The Moulin is a seventh generation family business, run by the Michel family, and it seems to be a little magical itself, combining a respect for tradition with modernization—so often the case with old artisanal businesses that survive and thrive. Most of the olives grown in their orchards are Cailletier, a cultivar often called Niçoise, although that, I'm told, refers strictly speaking to the curing method typical of Nice. The tapenade is made the traditional way, with just mashed olives, olive oil, salt, capers and anchovy.
I always use my best extra-virgin olive oil for this recipe. Today, I'm lucky to have some
Frankies 457 Spuntino Olio Nuovo
, the first pressing of the 2012 harvest—grassy green and deliciously pungent. It's made from organically grown Nocellara del Belice olives in the DOP (protected origin) Valle del Belice in Sicily. How nice that restaurateurs Frank Falcinelli and Frank Castronovo visit Sicily each year to oversee production and bring back the olive oil to
Carroll Gardens
, Brooklyn, just for you and me.
Now for the recipe…
Serves 4
3 or 4 juicy navel oranges (depending on their size)—enough for 12 slices
4 tbs tapenade
Extra-virgin olive oil for drizzling
Fennel seeds for garnish
  Cut each end off orange. Set it on end, and with a sharp knife, remove peel and pith in a curving downward motion.   Cut the orange in thin rounds and place three slices on each plate.   Drizzle with extra-virgin olive oil.   On each plate, spoon 1 tbs tapenade in one dollop on the oranges.   Sprinkle with fennel seeds.
Bon appetit!