OK, SO I COULDN'T CHOOSE ONE DISH. LUNCH. LUNCH IS THE BEST Mediterranean dish at Chef Sara Jenkins's Bar Extra in the East Village. Perch yourself on a stool at the long bar, pick almost anything on the midday menu, and you'll likely find a Mediterranean-inspired combo: a trio of eggplant purée, spicy red pepper walnut purée and cucumber and
labne
, with Sardinian flatbread; a
Swiss chard and ricotta tart; salad of
farro, tomato, cucumber, olive oil and red wine vinegar.
Ribolitta
, a warming Tuscan bean and vegetable soup, was tempting, but we were early and it wasn't quite ready yet. (Oh, kale, where are you?)
We decided to start with another special, an arugula, shaved sunchoke and red onion salad, with a yogurt dressing ($6)—It was crisp and fresh and, sipping on hibiscus tea served Brooklyn-style in a Mason jar, I was already content.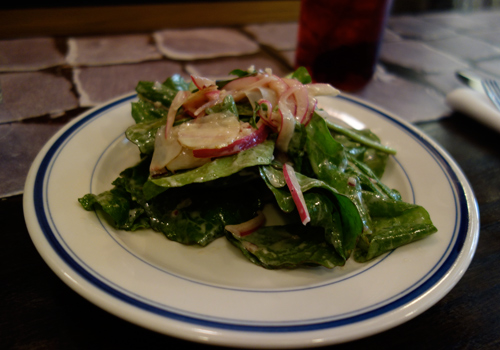 After our salad, my friend Carol ordered the spicy grilled "Kimcheese" sandwich ($8), which she pronounced delicious, and I had the
surryano ham sandwich
($10) made with cantaloupe melon butter (very delicate, but, yes, there was the cantaloupe) and cornichons on
stecca
, a baguette-like bread.
Surryano
, I learned, is a dry-cured ham made from Berkshire pork in Surry, Virginia. Clever name. Tasty in my sandwich.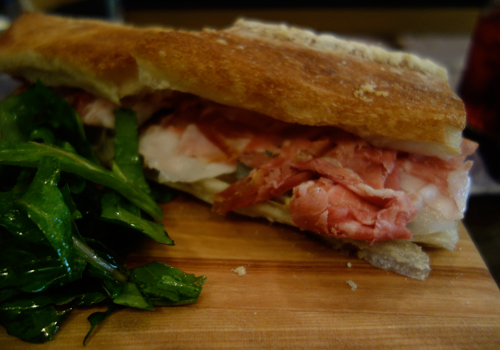 The Extra Bar, which is right next door to Porsena, Jenkins's pasta dinner restaurant, just opened in September, so being closed because of losing power for days post-Sandy—and refrigerated food—wasn't exactly what they needed, but it wasn't too long before they were announcing, "We're back—boot straps up, knives sharpened, stove tops afire." Lucky us.
In the evening, this friendly lunch counter turns into a wine bar, serving small plates and wines from around the Mediterranean. I walked by one evening and it looked so convivial. I'll definitely be back—for lunch or a rosé, depending on the time of day and/or my mood! Mondays are always a good choice—$1 oysters all day long.
Want to learn how to cook like this at home?
Jenkins will be teaching a class at De Gustibus Cooking School tonight, November 29, 5:30–8 pm, sharing classic holiday dishes from Tuscany. $95. The school is located on the 8th floor of Macy's.
Get tickets here.
Porsena Extra Bar
21 East 7th Street New York, NY
212-228-4923