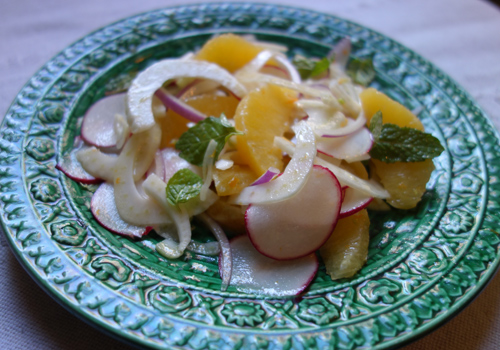 ORANGES, RADISHES AND RED ONION make a lovely salad on their own; Moroccan, Tunisian and Egyptian cooking all have tasty examples. For this meal, I decided to add fennel, for a welcome crunch—and because there it was, at the
market
. The dressing is an orange citronette (using orange juice as the acid, instead of lemon or vinegar). To prepare the orange segments, cut off each end of the orange, stand it on end and, using a sharp knife, cut downward in an arc, taking the pith and peel off. Finally, separate each segment from the membrane. (Here's a handy
video from Food52
if you'd like a demo.)
Serves 6
2 fennel bulbs, halved, cored, then very thinly sliced to create crescent shapes
2 oranges, peeled and in segments, membranes removed
4 radishes, thinly sliced (a mandoline makes this easy)
1/2 small red onion, halved, then very thinly sliced
Handful of mint leaves
For the citronette:
Zest and juice of one orange
¼ cup extra-virgin olive oil
2 tsp Dijon mustard
Sea salt
Freshly ground black pepper
Combine fennel, orange segments, radishes and onion in a bowl. In a separate bowl, combine the orange zest and juice with the mustard, then whisk in the olive oil. Add salt and pepper to taste. Pour citronette into the bowl with the fennel combo, add mint leaves and toss gently.