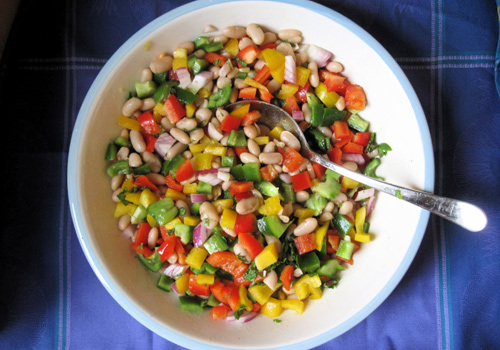 SOMETIMES A FARMERS' MARKET STAND JUST LEAPS UP AT YOU and says, "Make this dish!" At this time of year, that dish often involves peppers. Piled up in gorgeous multicolored heaps, who can resist?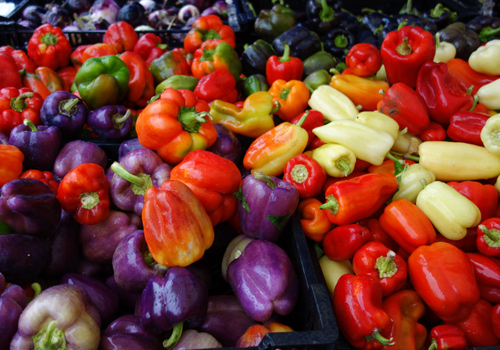 For this recipe, I add chopped up peppers to a few staples from the cupboard—canned cannellini and garbanzo beans, which I stock up on at Whole Foods, plus extra-virgin olive oil and red wine vinegar—and a generous handful of mint. It makes a fall meal full of wake-you-up tastes and crunch. If you like, you can top it off with crumbled feta or goat cheese—adding a salty zest and some extra protein.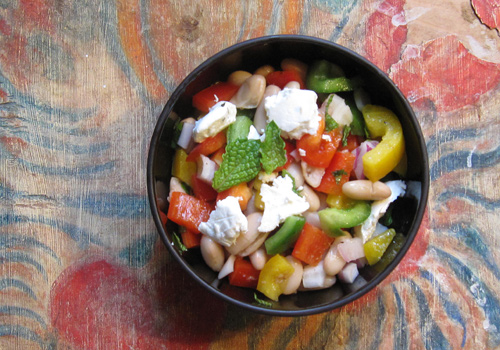 Oh, and a loaf of crusty bread and a bottle of crisp Albariño from Spain are always welcome accompaniments.
Generously serves 4 as a main dish
1 red pepper
1 orange pepper
1 yellow pepper
1 15-oz. can cannellini beans
1 15-oz. can chickpeas (garbanzo beans)
½ small red onion, diced
1 garlic clove, minced
1/3 cup extra-virgin olive oil
3 tbs. red wine vinegar
Sea salt and freshly ground pepper
A good handful (½ cup or more) fresh mint leaves, cut into thin strips (chiffonade) or left whole if very young and tender
Fresh feta or goat cheese (optional), for topping
Core, seed and dice the peppers into ¼-inch pieces and place in a serving bowl big enough to fit all ingredients. Drain and rinse the beans. Zap them for 20 seconds or so in the microwave, 'til just warm, and set aside. In a small bowl, whisk together the olive oil, vinegar and garlic, and pour over the beans. Let sit for 10 or 15 minutes. Add beans, onion and mint to the peppers, and gently mix. Season with sea salt and pepper, to taste.