PANZANELLA DI FARRO, a Tuscan-style tomato salad with farro, from
Olives & Oranges
,
by Sara Jenkins and Mindy Fox, is the recipe that got me
started eating farro.
At the time, I didn't know much about farro, except that it was a grain, so making that dish led to all sorts of research and then expeditions all over the city to find it.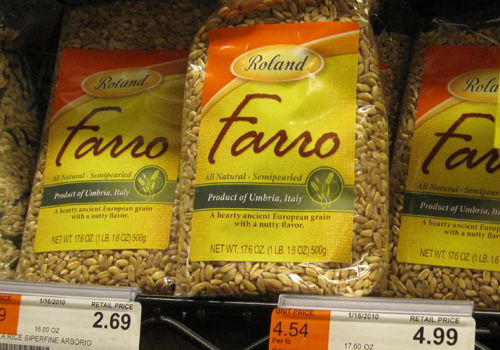 After that, since I travel regularly to Montreal and Toronto, I had to find farro sources in those cities, too, because the salad had become something of an extended family favorite as well. (Travelers: Dinah's Cupboard in Toronto; Milano Supermarket in Montreal).
A bag of farro even made the trip north with us to Georgian Bay (above) and 45 minutes across the water to my brother's cottage on an island one summer (we'd found wild rice on its shores, but weren't holding out any hope for farro).
All this adventure, thanks to one recipe.
Beyond farro, though, that dish introduced me to a whole wonderful world of cooking with chef Sara Jenkins. I've been down to
Porchetta
, her little shop on East 7th Street where she makes herbed roast pork sandwiches that get raves from anyone who's tried them. And I'm looking forward to more visits to her pasta restaurant,
Porsena
, in the same neighborhood.
But the East Village is not exactly next door, so back to the cookbook. I usually like to cook and eat at home anyway, so I've branched out to try other recipes in this very approachable but sophisticated book. Roasted cauliflower with tahini sauce. Orange and mint leaf salad with roasted beets. (Both great for Meatless Monday!) Baked pork chops with peaches (time for this one again, now that peaches are appearing in the market). Spaghetti with lemon sole, almonds, capers and parsley. Monkfish with olives, potatoes, and sun-dried tomatoes. And recently for dinner, smoked trout with arugula salad, pictured here.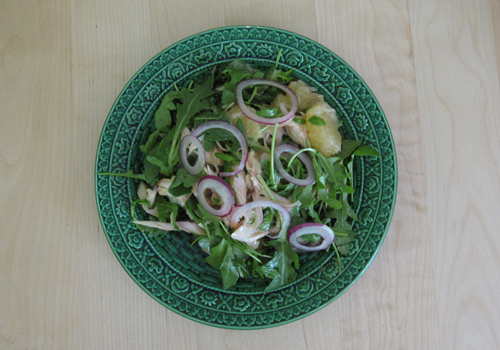 Along with the recipes, which are helpfully labeled quick-cook and slow-cook, Jenkins shares her knowledge of the Mediterranean pantry and offers flavor tips that make you an all-round smarter Mediterranean cook. I'm still a little obsessed with that farro salad, though. Planning to make it for another family get-together some time soon. Purslane or arugula? We'll see.
Porchetta
110 East 7th Street New York, NY 10009 212-777-2151
Porsena
21 East 7th Street New York, NY 10003 212-228-4923