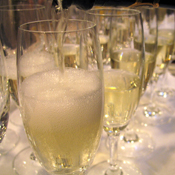 FUNNILY ENOUGH, IT WAS MY Polish father who introduced me to the Italian sparkling wine Prosecco. His lifelong love of all things Italian began in his 20s when he spent several of his army years in Italy during World War II and then stayed on for a year afterward as well. But I have to credit Commissario Guido Brunetti—the police inspector of Venice in
Donna Leon's novels
—with opening my eyes to a more day-to-day appreciation of it: The detective can often be found drinking
un ombra
with
cicchetti
(Venetian snacks) at a bar midday, or sipping it as an aperitif or with his professor wife Paola's fabulous home-cooked meals.
Prosecco is just one of the sparkling wines of the Mediterranean that are perfect for toasting the holidays. Ask your local wine seller for their favorite producers and bottles. Here are a few I've liked, from Gotham Wines, my neighborhood wine store, and Astor Wines downtown. When the wines are available from the stores' online sites, I include a link.
ITALY/ Prosecco
Prosecco is a dry sparkling wine made from Glera grapes. While Champagne undergoes a second fermentation in the bottle, Prosecco is made by the Charmat method, with the second fermentation taking place in stainless steel tanks. Mionetto has been making Prosecco since 1887 in Valdobbiadene, just north of Venice, the area where most Prosecco comes from. This bottle often shows up chez nous to celebrate, well, just life. The producer suggests it's "perfect with brunch, lunch, dinner or potato chips." You get the idea.
Mionetto Valdobbiadene Superiore D.o.c.g., $18
Made from 100% prosecco grapes from a single vineyard, this dry gentle sparkler has a floral bouquet with apple and peach flavors. (At Gotham Wines store.)
FRANCE/ Blanquette de Limoux
From Languedoc Roussillon in southern France. I was interested to learn that Benedictine monks started making sparkling wine here in 1531, a century before the first Champagne was produced. Estate-bottled, this wine today is considered "qualitatively close to a high quality non-vintage Champagne." Apparently, Thomas Jefferson liked it back in the day, too.
SPAIN/ Cava
A vintage estate-bottled cava, served to me just the other night with mezze by my friend, Brenda. That is true friendship.
GREECE
Made following the Champenoise method by Tselepos, a small respected family winery in the Peloponesse, from Moschofilero grapes.
And on my list to try soon, a few staff picks from my friends at Gotham Wines:
Penisola Sorrentina "Gragnano," $16
A dry red frizzante (slightly bubbly) blend of Aglianico, Piedirosso and Sciasinasso grapes, made on the Sorrento peninsula in southern Italy. It's favored as a good match for pizza, working well with the tomato and the cheese. Or any light meal, for that matter.
Rosa Regale, Banfi, $18
A sweet red sparkling wine from Piemonte, with a wonderful burst of raspberry on the palate. Pairs beautifully with chocolate.
Castello di Luzzano "Magot," $22
A white frizzante made from Pinot Nero grapes in Lombardia. Light straw yellow, fragrant on the nose, crisp and well-balanced. "For the sophisticated palate," according to my Gotham guru.
Gotham Wines & Liquors
2517 Broadway (at 94th St) New York, NY 212-932-0990 info@gothamwines.com
Astor Wines & Spirits
399 Lafayette Street (at East 4th St) New York, NY 212-674-7500 customer-service1@astorwines.com Twitter: @astorwines