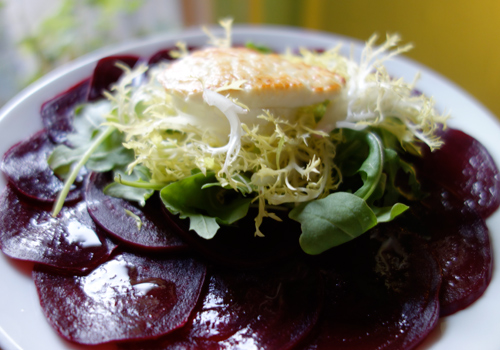 AT OUR HOUSE, WE CALL THIS DISH
Christopher's Beet Salad
, because of
how the recipe came to us
. Golden beets work really beautifully, too, says Chris.
Serves 4
5 medium beets
wild arugula and frisée greens
¼ cup extra-virgin olive oil, plus extra for drizzling
2 tbs balsamic vinegar
salt, pepper
4 oz goat cheese
Scrub the beets and boil whole until tender (45 minutes to an hour). Remove from water and let cool. In a small bowl, whisk together olive oil and vinegar, adding salt and pepper to taste. Combine about four handfuls of wild arugula and frisée in another bowl, dress with the vinaigrette and toss gently. When the beets are cool, peel and, using a mandoline, slice them into thin rounds. Arrange in circles in one layer on four salad plates. Drizzle a little extra-virgin olive oil over the beets. In the center of each plate, pile a small handful of the arugula/frisée mix. Top with a slice of goat cheese (browned under the grill if you like). Serve with crusty bread.