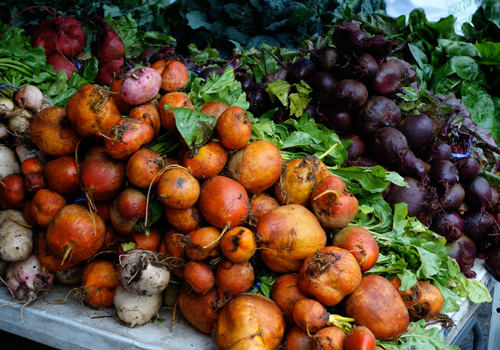 LISTENING TO
STANLEY TUCCI and his mother
talk about recipes the other night made me think about all the little culinary treasures my mother has passed on to me. Not just basic cooking techniques that I learned at her elbow, but recipes from her mother, her mother's mother, her father, her mother-in-law, a childhood schoolmate of my father's, their friends in London in the late 1940s. She has been the keeper of these recipes and now is making sure her children have them, too.
There's Friar's Omelette, from Susanna Moss, my mother's grandmother, written out in her own hand, my Polish Babcia Władysława's pickled herring and babka (two separate dishes!), my dad's traditional Christmas beetroot brine and soup, shortbread from Grandma Lily, brown bread from Grandad Percy (he was a miller and expert baker). Not to forget Marysia's almond torte and Zosia's pickled dill cucumbers. I've collected some on my own visits to family, too: Uncle Abdul Beidas's hummus, Aunt Ela Makowiecka's gazpacho (despite the Slavic name, she lived a good part of her life in Spain).
Recently this loving passing around of recipes took a different turn when my 20-something son Christopher flipped the tables and taught me how to make an elegantly plated beet, arugula, frisée and goat cheese salad that he'd learned somewhere along the line living in an Italian (Canadian) household for the last two years and working at an Italian café. Lucky me, and now lucky you because it's the perfect
Meatless Monday
dish to share. Slicing the beets very thin is not only beautiful but somehow highlights their delicate sweet flavor. From my family to yours.