A LITTLE LUXE FOR THE MEDITERRANEAN PANTRY
THE MEDITERRANEAN SHOPS THAT DOT NEW YORK are a great source of treats and gifts for you and your foodie friends. Shopping in them is part of the pleasure—a step into another world for a time. I like to take a minute to pause, if I can, ordering a coffee and a snack at an Eataly counter or a few tapas—and more coffee—in the back café at Despaña. There are always the samples and tastings, too. Yum.
Villa Manadori Artisanal Aceto Balsamico di Modena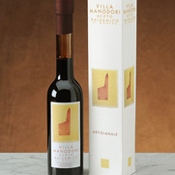 This dark, rich balsamic vinegar is far removed from the everyday balsamic you'll find in most supermarkets. (I first tasted it drizzled on a roasted vegetable dish at Le Verdure in Eataly; later I learned it's the balsamic of choice at Babbo as well.) I'd heard that Di Palo Fine Foods, a 4th-generation store in Little Italy, was a good source for high-quality balsamic vinegars at very reasonable prices, and, sure enough, I found this one in the store on Grand Street, an excellent buy at $32.99. (It usually runs about $45.) In a tall elegant bottle, packed in a white box, it makes a lovely gift.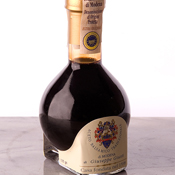 Of course, for $200, you could go for the real nectar of the gods,
Aceto Balsamico Tradizionale di Modena
, which has D.O.P. status and must be aged for at least 15 years. In the case of
this particular bottle
of balsamico tradizionale, the cooked grape must is aged for 30 to 40 years in successively smaller fruitwood barrels. (Standards are strict; even the bottle has to be a particular shape.)
Di Palo Fine Foods
200 Grand Street New York, NY 212-226-1033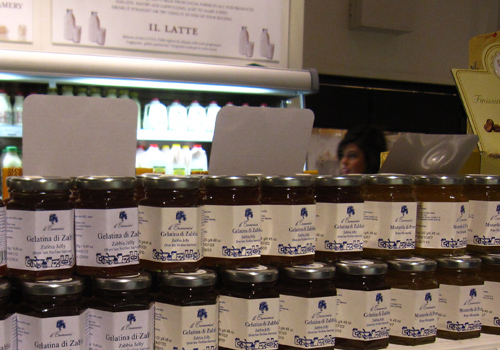 Sour Cherry Compote with Balsamic Vinegar, from Le Tamerici
I met Paola Calciolari, the founder of this small artisanal producer, at Eataly last month when she was doing a tasting of her compotes, wine jellies and
mostardas
. Each one was so tasty, it was hard to choose among them. I love sour cherries, though, so I went with this one ($13; selections from the product line available at Eataly, above). It's delicious with soft cheeses like Taleggio and Brie, or on your yogurt in the morning. Learn more about Paola's company
here.
Eataly NYC
200 Fifth Avenue (enter on Fifth or 23rd) New York, NY 212-229-2560
Lunardo Black Truffle Honey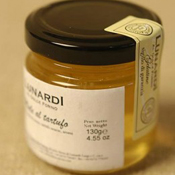 Truffles, without the truffle budget: For $19.50, experience how the "sweetness melts into a gorgeous, deep, earthy truffle flavor." (Many truffled products have little more than truffle aroma; Market Hall Foods is careful that actual truffle appears in
this honey
.) Delicious served with chunks of parmigiano reggiano.
Online:
MarketHallFoods.com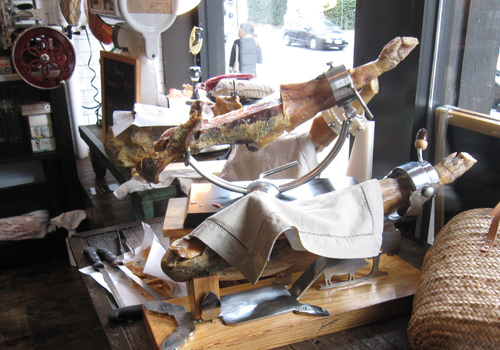 Jamón Ibérico Bellota
This is truly the king of Spanish dry cured hams, the most prized pata negra, and it has only been available in the United States for the last couple of years. It's handcrafted according to the exacting standards of a Denomination of Origin label from indigenous black Iberian pigs that roam freely in oak groves and meadows. In the last few months before slaughter, the pigs eat only acorns (hence, bellota) which, we're told, accounts for the particular rich complex taste of this ham. It's then dry cured for up to 36 months. Need further persuasion? Much of the ham's beautiful marbled fat is oleic acid, a healthier monounsaturated type of fat.
You'll find Jamón Ibérico Bellota at Despaña, a shop in SoHo that transports you to Spain the moment you step inside. It sells for $159/lb machine-cut, $169/lb hand-sliced. Nope, that's no typo. But the folks at the store will happily sell you a few paper-thin slices of this delicacy, so no one need miss out on the flavor sensation. Hostess gift? Foodie potluck? We spent $10 for our slices one day this fall and ate them as soon as we hit the sidewalk, the best bicycling refueling snack I've ever had. (Despaña also stocks a full range of Spanish charcuterie at more everyday prices.)
Despaña
408 Broome Street New York, NY 212-219-5050
Previous Holiday Gift Guides: